Think you have what it takes to turn an ordinary dish into something extraordinary for your diners?
Join now and stand to win up to $1,000 and media publicity for your business!
How to participate:
Submit your dish photo and tell us the inspiration behind your dish from now till 31 August. 
10 shortlisted participants will be contacted to provide recipes for validation, followed by a food tasting session at your outlet.
Dish entry criteria:
Your dish must be halal (MUIS certified or 100% Muslim owned).
It must be a fusion of 2 or more cuisine types (e.g Western and Chinese).
It must use Knorr Concentrated Chicken Bouillon. Request for a sample now.
Participating dish must be either an existing dish or a new dish going to be launched in your F&B establishment by 1 September. 
Contest categories:
Most Creative Halal Fusion Dish wins $688 and media publicity.
Most Popular Halal Fusion Dish wins $288. Determined by fan votes on social media.

Contest entry
Interested participants will be contacted to verify full details and to provide dish image to complete the contest submission.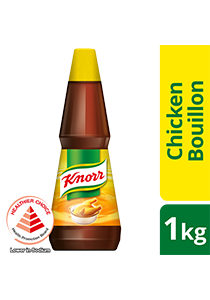 Made for Chefs by Chefs, KNORR now borrows from the best of Knorr's heritage in China with KNORR Concentrated Chicken Bouillon. KNORR Bouillon gives natural chicken flavour and aroma and boosts strong meaty flavour to your dishes. A perfect meaty bouillon for making stocks & soups.
Find out more
Download our collection of Heritage Halal Recipes for inspiration.
Looking for some ideas to get you started? Take a look at these recipes and start creating your own unique fusion halal dishes.
Get the recipe book
Download our collection of Innovative Halal Recipes
Try our creative recipes, and give your usual halal treats a modern twist.
Get the recipe book