BEST FOODS Caesar Dressing 2.5L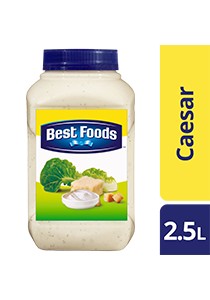 Storage
Keep in cool & dry place. After opening, keep refrigerated at 4-10℃. Do not freeze.
Ingredients and Allergen Information
Sugar, Soybean Oil, Mustard, Vinegar, Egg, Honey, Salt, Modified Starch, Spice, Edible Gum, Acidity Regulator, Preservative (E202), Caramel, Calcium Disodium EDTA.

May contain traces of cereals containing gluten, soy, and peanut.
Description
The classic flavour that everyone loves, BEST FOODS Caesar Dressing is loaded with real grated parmesan cheese and finished off with the hints of garlic, anchovies and spices that perfectly complement with your Caesar salad.


*Based on the volume sales for the latest 52 week MAT period available to 11th May 2013. Unilever calculation based in the part on data reported by Nielsen through its Scan Track and Retail Indec Services for the locally defined database containing mayonnaise products for the 52-week period ending 11th May 2013 for the total market in USA (Copyright © 2013, Nielsen).