BEST FOODS Coleslaw Dressing 3L
15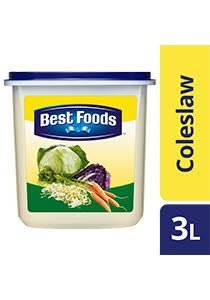 Made from your favourite recipe with a hint of mustard, BEST FOODS Coleslaw Dressing is a sweet and tangy pourable dressing. Ideal for coleslaw, potato, rice, bean and pasta salads. It is also a replacement to mayonnaise for sandwich fillings.
From the makers of the World's Number 1 Mayonnaise Brand*
Packaging
Excluding 7% GST
All product information
Nutrition and allergens
Halal - Philippines
Ingredients and Allergen Information
Soybean Oil, Sugar, Eggs, Salt, Acetic Acid, Mustard, Xanthan Gum, Preservative (E211), Flavouring (Contains Peanut, Mustard), Calcium Disodium EDTA.

May contain traces of cereals containing gluten, soy, fish, and milk.
Key product information
Description
Made from your favourite recipe with a hint of mustard, BEST FOODS Coleslaw Dressing is a sweet and tangy pourable dressing. Ideal for coleslaw, potato, rice, bean and pasta salads. It is also a replacement to mayonnaise for sandwich fillings.
From the makers of the World's Number 1 Mayonnaise Brand*
Packaging
Per carton (4 x 3 L)
Container
Per piece (Tub)
Usage information
Storage
Keep in a cool & dry place. After opening, keep refrigerated at 4–10°C. Do not freeze.