KNORR Pro Cream Soup Base Mix 1kg
10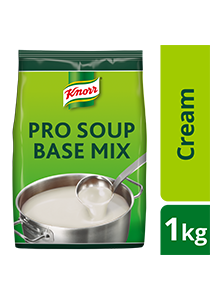 Consistently achieve smooth and creamy texture soup, even with limited skilled staff
Allows for advance preparation in large volume. Suitable to freeze and store. Maintains flavour, consistency and does not split when re-cook up after freeze-thaw for 180 days
Ambient storage with long shelf life of 12 months
Packaging
Excluding 7% GST
All product information
Nutrition and allergens
Halal - Malaysia
Ingredients and Allergen Information
Modified Starch, Creamer (Contains Wheat, Milk Derivatives), Roux (Contains Wheat), Maltodextrin, Salt, Permitted Flavour Enhancer (E621, E635), Palm Olein, Lactose (Milk Derivatives), Hydrolysed Vegetable Protein, Onion, Tumeric, Permitted Flavouring (Contains egg), and Permitted Edible Gum

May contain traces of cereals containing gluten, fish, crustacean, millusc, soy, peanut and tree nuts. All food additives are of plant, animal and synthetic origin.
Key product information
Description
KNORR Pro Cream Soup Base Mix is made with real roux and creamer to help you deliver a rich, creamy base in just 5 minutes, which is versatile for extension into a wide variety of soups, or as a base sauce for pies, sauces or casseroles.
Packaging
Per carton (6 x 1 kg)
Container
Per piece (Pouch)
Usage information
Preparation
1. Dissolve 90g of KNORR Pro Cream Soup Base Mix in 1 litre of room temperature water.
2. Bring mixture to a boil, stir frequently, and simmer for 3 minutes or until thickened.
3. For a richer taste and texture, substitute 30% of water with milk or cream. Alternatively, add additional ingredients like tomato, corn or other vegetables, and simmer until cooked.

Storage
Store in cool and dry place. Once opened, fold the bag and seal properly to keep the remaining content fresh.