PLANTA Margarine 2.75kg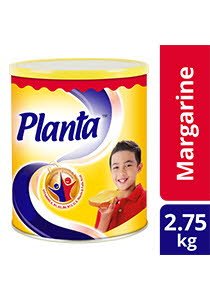 Storage
Keep in a cool and dry place.
Ingredients and Allergen Information
Palm Oil, Palm Kernel Oil, Soya Lecithin, Vitamins. Contains Permitted Antioxidants, Colouring and Flavouring.

All food additives used is from plant, synthetics and animal origins. May contain traces of cereals containing gluten, nuts, soy, fish, milk and eggs.
Description
PLANTA Margarine is a multi-purpose margarine that is ideal for spreading, cooking and baking. It has an iconic aroma and taste that no other can mimic. It's not only delicious but also nutritious with Vitamins A, B1, B2, B6, B12, D, E, Niacin and Folic Acid.