Superior Treasure Pot
Hosting a reunion dinner? Make this Superior Treasure Pot the centrepiece of your auspicious gathering. Abundant with sumptuous goodness, this treasure trove of quality ingredients includes prawns, abalones, sea cucumbers, fish paste and more.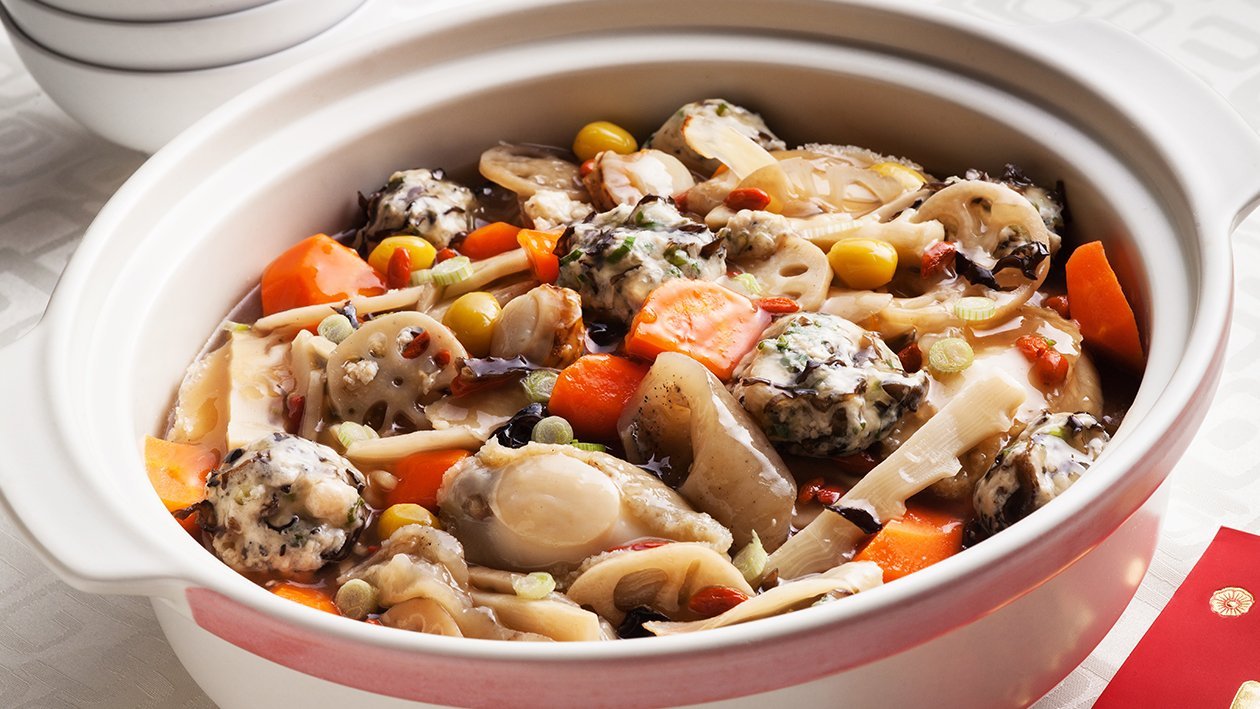 Ingredients
Stock Base
Seafood Cake
Prawn meat, diced

100.0 g

Black Fungus, soaked and chopped

100.0 g

Water Chestnut, clean and chopped

100.0 g

Spring Onion, sliced

30.0 g
Before Serving
Bamboo Shoot, sliced

200.0 g

Dried Mushroom, soaked, stem off

100.0 g
Preparation
Stock Base

Heat up water in stock pot.
Add in Basic Stock Reduction and Concentrated Scallop Bouillon and simmer for 5mins.
Set aside for later use.

Seafood Cake

Add all ingredients – fish paste, prawn meat, black fungus, water chestnut, spring onion, eggs, sesame oil, Chicken Seasoning Powder – in a mixing bowl.
Mix it evenly to form a seafood paste.
Mould into smaller balls with your palm, 80gm each.

Before Serving

Heat up stock base, add in carrots, bamboo shoot, mushrooms and simmer for 1hr.
Add in abalone and sea cucumber and simmer for 20mins.
Add in seafood cake and simmer for another 10mins.
Pour in hua tiao wine and ready to serve.