Wok Fried Chicken with Seasonal Vegetables in Spiced Sauce
This Asian dish is the best of both worlds: simple and flavourful. Seasoned with a spicy marinade and packed with succulent chicken and fresh vegetables, this colourful masterpiece is truly a wok of art!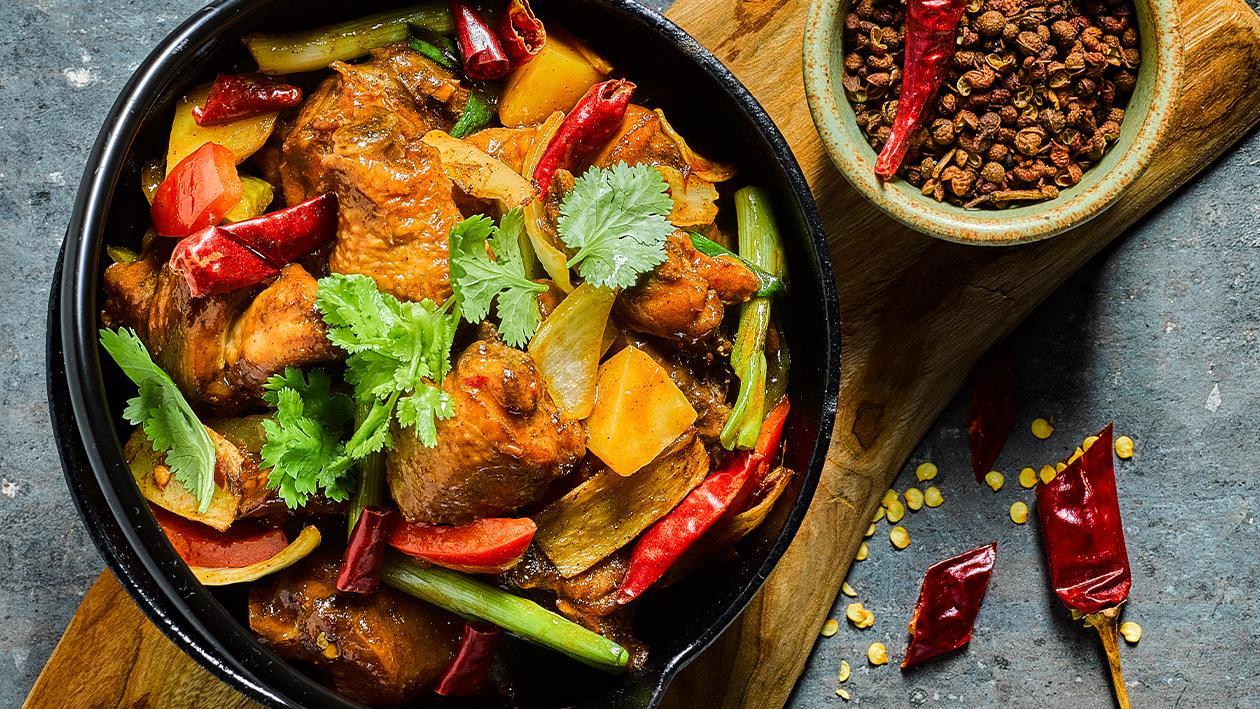 Ingredients
Chicken Marinade
Whole Chicken, chopped into smaller chunks

1000 g

Bicarbonate Soda Powder

4 g
Condiments
Dried Chilli, sliced and seed removed

20 g

Green Capsicum, cubed

50 g

Spring Onion, sliced

50 g
Before Serving
Preparation
Chicken Marinade

Mix all ingredients – chicken chunks, Rendang Paste, oyster sauce, dark soya sauce, bicarbonate soda powder – in a mixing bowl.
Ensure marinade coats well on chicken.
Chill for at least 2hrs.

Condiments

Prep all ingredients accordingly.

Before Serving

Blanch chicken chunks in oil and strain off excess oil. Set aside.
Heat up wok, add in oil and sweat dry chilli slices with low heat. Do not brown chilli.
Add in garlic, ginger, onion and sweat till fragrant.
Add in green and red capsicum, celery and potato slices and toss well in wok.
Add in oil-blanched chicken chunks and add in spicy bean paste, sugar, soya sauce and sze chuan peppercorn.
Toss well and simmer for 10mins.
Fold in spring onion and transfer into a clay pot or bowl.
Garnish coriander leaf.
Ready to serve.