Alexis Bauduin
If there's proof that healthy food doesn't have to be boring, it's YOLO - a takeaway food concept of healthy, everyday meals. As the brand's founder, Alex is determined to change the way everyone eats.

The Spark behind YOLO
What inspired you to start YOLO?
AB: I used to always work out, about 3-4 times a week and I always felt really healthy — until I got a cold after coming back from a business trip. Within 48 hours, I was in Intensive Care. All this because of a gluten intolerance that I didn't know I had, as well as the culmination of always eating at restaurants, work stress, traveling, and lack of sleep. So, I started to look into healthy food. I found a lot of options but none that appealed to my taste buds. That became the trigger to start YOLO.
 
How are your recipes created?
AB: It starts with my customer. When we first opened, we had some of the best burgers you can find. But they were the worst sellers and it surprised me. So, I decided to ask my customers what do they want. This is where the dish creations really came from. Once we started to understand the niche and direction, then we can break it down to the ingredients and sit down with the nutritionist to figure out how to make the dish work.
 
How do you source for good quality ingredients?
AB: We recommend buying fresh ingredients, from your meat to your vegetables to guarantee that you get all the nutrients those ingredients offer. Source them in your local market or store that you trust to make sure they also offer you the freshest ingredients and products that are safe.
 
For YOLO, there are some products that contain organic ingredients, while others don't. But we guarantee what is on the plate has the right balance of carbs, proteins, and fibers.
How YOLO Brings Healthy Food to Everyone

Can you describe the best-selling dish in YOLO?

AB: One of the dishes that represents what we do quite well is the cauliflower rice. It's also the only dish that has stayed on the menu since the beginning. And it's crazy popular. It's our take on the fried rice, except with lower carbs. We use the flower from the cauliflower, where it gets cut very thinly before being baked, giving you that crisp and consistency you get with rice. It's a good way to not eat carbs but feel like you're eating carbs.
 
Vegetarian meals are often low in calorie. How do you overcome this issue, especially for meals that cater to men?
AB: It's definitely more difficult to get protein sources when you eat plant-based meals. But there are actually a lot of vegetarian protein sources out there. In our menu, we have the Peranakan curry. And as soon as you put sweet potato and tofu, the calories go up. We use a lot of beans, lentils, sweet potatoes, tofu, things that are high in protein content.
 
Part of YOLO's branding is that it's halal certified.
AB: It's critical for me to make YOLO available to everyone. How are you going to create a mass market product if you can't serve people eating halal? It's a lot more difficult, especially from an ingredient sourcing point of view, which is why there are very few healthy food concepts that are certified halal. But it's critical for us and a huge differentiation factor.
 
I want to make sure everyone can eat YOLO. Young, old, Muslim, vegetarian, vegan, dairy-free, everything is possible.
Creating a Healthy Food Business Model Unlike Any Other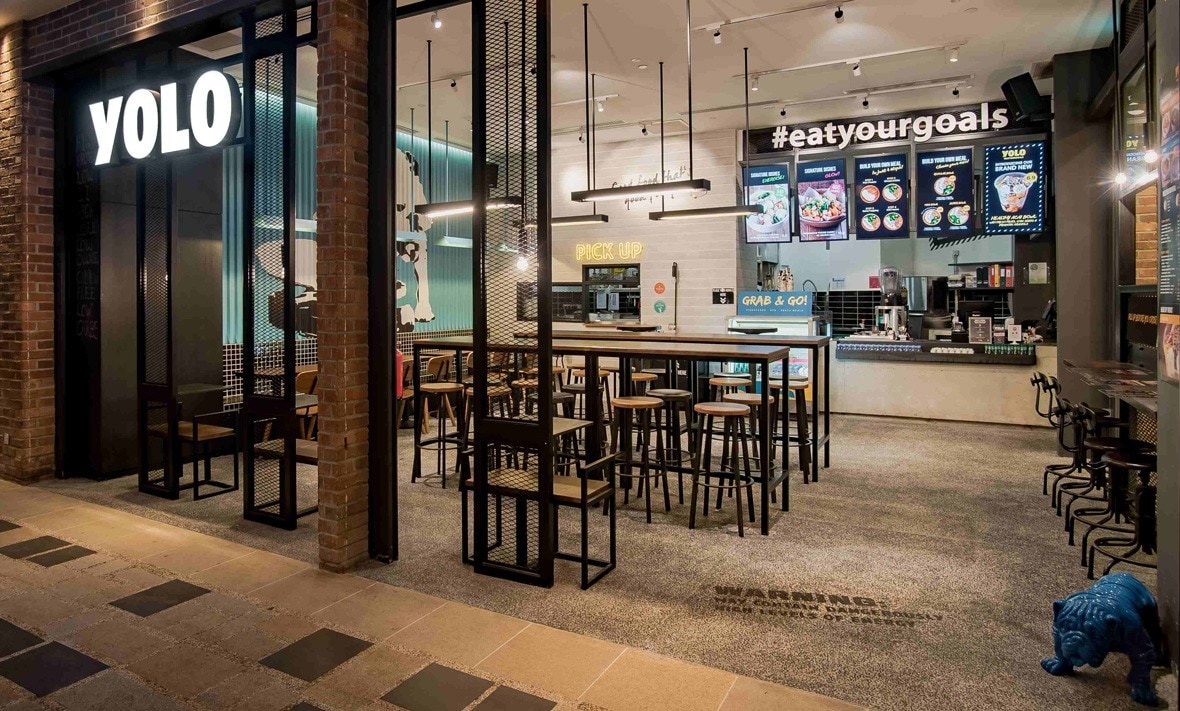 How important is it to have a certified nutritionist in a healthy food business?

AB: Our goal is to change the way people eat healthy food. And to really make our food healthy, it has to be legit. You can't cheat customers. So the necessity of having a nutritionist was crucial. It was difficult to find a suitable nutritionist for YOLO, and it was a big investment. But it has also created a barrier for new entrants who try to copy us. Because it costs a lot of money to create that menu. 
 
With having a nutritionist on board, how is the recipe creation like in YOLO?
AB: The process has evolved a lot over the years. When we first launched, the nutritionist will create the meals before being passed to the kitchen team to execute. But there was a lot of back and forth. So, we changed the process. Now it starts with the chef and me, then the nutritionist will analyse the recipe and make additional suggestions.
 
What is your advice to other current or aspiring food operators of planning to scale their business by adding a food delivery component?
AB: People always look at food delivery and think about the potential extra sales. Yes, you do get more sales but at what cost? These food aggregators charge high commissions, sometimes up to 40%. Which means you're often losing money on every dish that you deliver. You will also place a lot of strain on your business and operations. 
 
You need to ask how the food delivery component will impact the quality of the food and how will your customer experience be like. There's a lot of elements to consider before going on a food delivery platform, for sure.
Advice, Tips and Trend Predictions of a Healthy Food Entrepreneur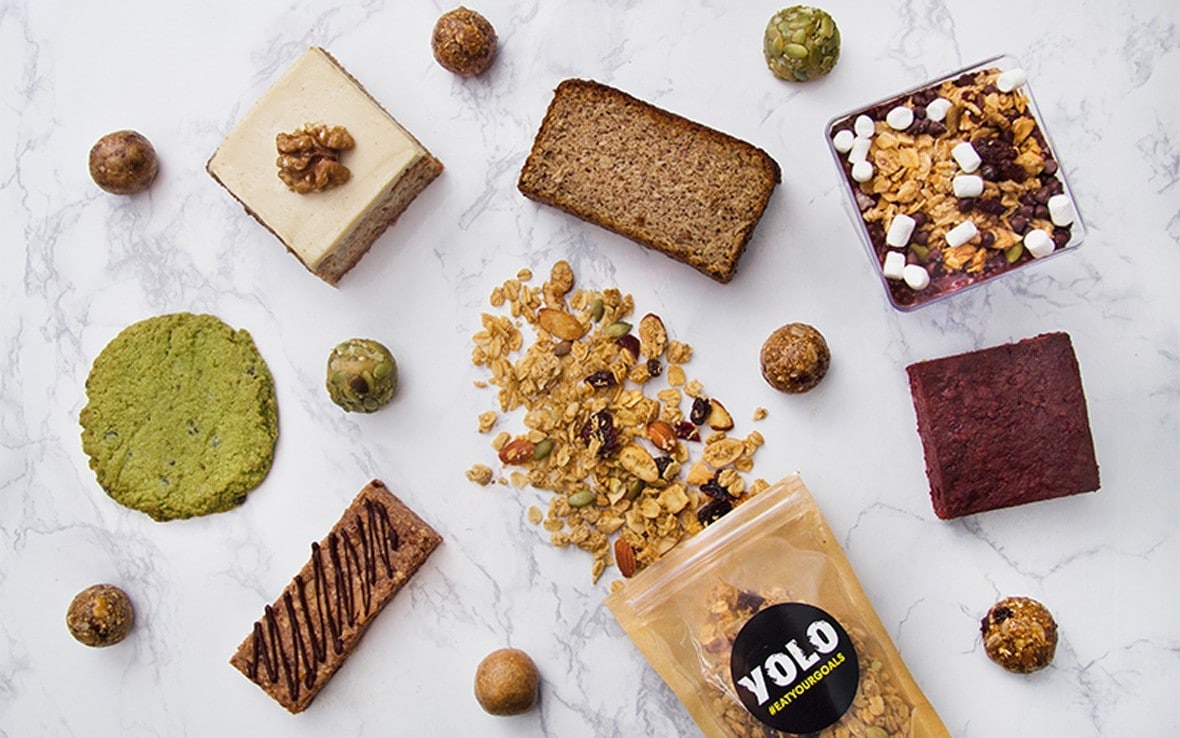 From an operations standpoint, how do you manage to balance between using the best quality ingredients and trying to keep a low expenditure for your kitchen inventory?

AB: When we started, our price point was between SGD$10 to $17. The business was working, but once we changed and brought in the new menu with 70% of it that's below SGD$8, it completely changed the business. We literally doubled our sales. And now, we have this blitz effect on the market, so the price point is super important. At the end of the day, it's always about that balance.
 
Other than high costs in food delivery in Singapore, what are the other challenges in food delivery that YOLO has faced?
AB: Food delivery is a completely different business. It changes the way you operate, because all of a sudden you work with different partners that have different devices that don't integrate with your POS system. Secondly, we had to make sure the customer experience is the same, and that the meals we put up for delivery can actually travel well. We put in a lot of R&D to find the best way to transport our food, how to package and present the meals.

 
When we first started food delivery, it was an operational struggle. I had to create a whole new station with one full-time staff managing the orders.

How do you manage quality control when cooking in bulk, especially for meal plans and corporate orders?

AB: Whether we cook individual dishes or in bulk, the process is still the same. It still gets cooked literally right before it goes out. We learned for 2-3 years before we found the right processes, and it's about respecting SOPs. Organisational and operational structure in your business is the key.
 
What have been the most valuable learnings over the past few years of operating YOLO?
AB: Firstly, having a company culture is important for a startup. I have a very specific mission, so how do I implement that into my staff? I had to set a strong culture and made sure my staff understood exactly what we're doing, why, and how it impacts people's lives. Secondly, I learned to be more open-minded. I was new to operations, so I went and worked at the outlet, in the kitchen, and at the counter for one and a half years. Being there allowed me to be in touch with customers all the time. I think listening to customers, to the team, and seeing what works and what doesn't work is one of the key things that allowed me to improve the concept to what is it today.
 
Make sure that you listen to criticisms, stay tuned with what the customers want, and no matter who is the customer or the type of feedback you get, always listen.

What are your predictions for healthy food trend in Singapore in 2019?
AB: Singapore is evolving. There are a lot of trendy grain bowls and acai bowls place popping up. It might continue but, from a business operator standpoint, there's an expiration date. I think slowly the market will evolve into what we're doing now, which is second generation. It's doing what people are asking for, which is laksa, chicken rice, beef rendang.
From making many missteps to carefully experimenting and curating their menu, Alex has shared what it takes to run a successful healthy food startup. The start of the journey of healthy food business is never easy, but getting the right help smoothens the process. More importantly, Alex has successfully showed that healthy food can indeed be delicious.
Featured Recipe & Tips by Chef Roy Lim

Delicious and healthy recipes from our expert cook team and chefs.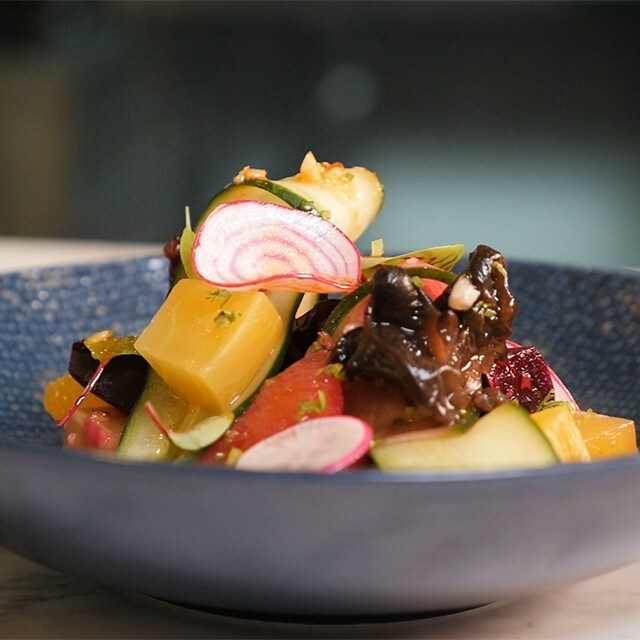 Beetroot Black Fungus Salad Recipe
Need fresh new ideas for a salad? Get inspired to create unique healthy salads with Chef Roy Lim's recipe for a nutritious bowl of beetroot and black fungus salad with citrus dressing.