9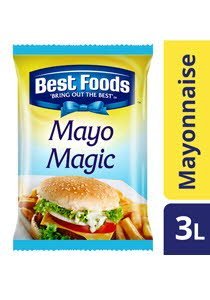 BEST FOODS Mayo Magic is the delicious salad dressing that can help you to add that 'magic' touch to your local creations. It gives a sweet and tangy taste to perfectly complement your local delights. Especially on burgers and breads, it is easy to spread and pipe and it provides the right amount of moisture and maintains the creaminess and consistency on a hot burger patty and bread.
Made by a brand established since 1905 and is from the makers of the World's Number 1 Mayonnaise Brand.*
Packaging
Excluding 7% GST
All product information
Nutrition and allergens
Halal - Malaysia
Ingredients and Allergen Information
Sugar, Soybean Oil, Modified Starch (E1442), Eggs, Salt, Glucose Syrup, Acetic Acid, Edible Gum, Phosphoric Acid, Preservative (E202), Flavouring (Contains Mustard), Calcium Disodium EDTA, Spice.

May contain traces of cereals containing gluten, soy, peanut, milk and fish.
Key product information
Description
BEST FOODS Mayo Magic is the delicious salad dressing that can help you to add that 'magic' touch to your local creations. It gives a sweet and tangy taste to perfectly complement your local delights. Especially on burgers and breads, it is easy to spread and pipe and it provides the right amount of moisture and maintains the creaminess and consistency on a hot burger patty and bread.
Made by a brand established since 1905 and is from the makers of the World's Number 1 Mayonnaise Brand.*
Packaging
Per carton (4 x 3 L)
Container
Per piece (Pouch)
Usage information
Storage
Keep in a cool & dry place. After opening, keep refrigerated at 4–10°C. Do not freeze.