BEST FOODS Professional Cooking Mayo 3L
13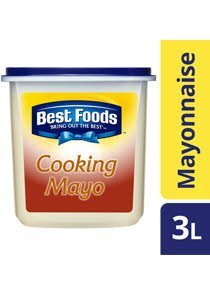 BEST FOODS Professional Cooking Mayo is designed to delivery the superior results for high heat cooking techniques such as baking, stir-frying and deep frying. Even when heated up to 200°C, it retains its stability without oil separation and maintains its good colour and texture while enhancing the taste of the dish.

BEST FOODS Professional Cooking Mayo, the chefs' choice for hot applications!
From the makers of the World's Number 1 Mayonnaise Brand*
Packaging
Excluding 7% GST
All product information
Nutrition and allergens
Halal - Philippines
Ingredients and Allergen Information
Soybean Oil, Sugar, Vinegar, Eggs, Modified Starch, Iodized Salt, Edible Gum, Preservative (E202), Flavouring (Contains Mustard), Calcium Disodium EDTA, Spice

May contain traces of cereals containing gluten, soy, fish, milk and celery.
Key product information
Description
BEST FOODS Professional Cooking Mayo is designed to delivery the superior results for high heat cooking techniques such as baking, stir-frying and deep frying. Even when heated up to 200°C, it retains its stability without oil separation and maintains its good colour and texture while enhancing the taste of the dish.

BEST FOODS Professional Cooking Mayo, the chefs' choice for hot applications!
From the makers of the World's Number 1 Mayonnaise Brand*
Packaging
Per carton (4 x 3 L)
Container
Per piece (Tub)
Usage information
Benefits
Halal
Made for cooking
Can withstand 200°C

Storage
Keep in cool & dry place. After opening, keep refrigerated at 4-10℃. Do not freeze.