BEST FOODS Tartar Sauce 3L
15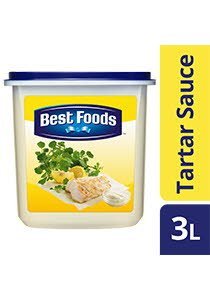 Made with real and good quality ingredients such as pasteurised eggs, vinegar, soybean oil, pickled relish and mustard. BEST FOODS Tartar Sauce complements seafood well. Its thick and creamy consistency also makes it ideal as a dipping sauce for fried foods such as potato wedges, calamari and onion rings.
Made by a brand established since 1905 and is from the makers of the World's Number 1 Mayonnaise Brand.*
Packaging
Excluding 7% GST
All product information
Nutrition and allergens
Halal - Philippines
Ingredients and Allergen Information
Soybean Oil, Sugar, Dill Relish, Vinegar, Eggs, Modified Starch, Salt, Onion, Permitted Edible Gum, Permitted Preservative, Permitted Flavouring (Contains Mustard and Peanut), Permitted Calcium Disodium EDTA, Spice.

All additives are of plant and synthetic origin. May contain traces of cereals containing gluten, soy, fish, and milk.
Key product information
Description
Made with real and good quality ingredients such as pasteurised eggs, vinegar, soybean oil, pickled relish and mustard. BEST FOODS Tartar Sauce complements seafood well. Its thick and creamy consistency also makes it ideal as a dipping sauce for fried foods such as potato wedges, calamari and onion rings.
Made by a brand established since 1905 and is from the makers of the World's Number 1 Mayonnaise Brand.*
Packaging
Per carton (4 x 3 L)
Container
Per piece (Tub)
Usage information
Storage
Keep in a cool & dry place. After opening, keep refrigerated at 4–10°C. Do not freeze.