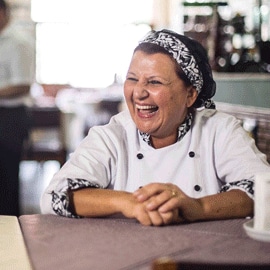 Food Safety in the Hospitality industry has always been an important topic. However, in the last few years with increased food allergens among consumers, foodborne illnesses and contaminated risks, Food Safety is a demanded skill of all foodservice professionals. In this guide you will find the latest tips and regulations with regards to restaurant food safety, such as allergen considerations, food storage checklist and more. For more on Food Safety sign up for our FREE online Food Safety & Handling course. 

Tip #1: Make sure your Personal Hygiene is taken care of!
Food hygiene starts with good personal hygiene. Personal hygiene is often the cause of many food poisoning cases, however, it tends to be de-prioritised when it comes to food safety. Observing and monitoring your kitchen staff's personal hygiene is crucial in preventing food contamination. Find out more about basic staff attire that prevents food contamination in this Food Hygiene article. 
Tip #2 Ensure your Restaurant is using a Cleaning Checklist
Tip #3 Stay up to date with the most common Food Allergies
The below foods are known as "the big nine" most serious foods causing allergic reactions. Even small traces of these ingredients can cause fatal incidents for consumers with serious repercussions for food establishments. In the UK a restaurant was recently sentenced to 6 years in jail for failing to adhere to food safety precautions. View the Most Common Food Allergens with Substitutes here. 
Tip #4 Use a Food Allergen Checklist to cover all areas of Hospitality
An estimated 2 to 4% of adults and 6% of children are now suffering from some type of food allergy. As such, it can be difficult to create suitable dishes for customers with allergies. The below chart has been specifically designed for F&R Professionals with practical tips to cater to these guests' dietary needs and provide them the information they need to make informed choices. Use the following Food Allergen Checklist to ensure food safety. 
Tip #5 Get your Team onboard the latest Restaurant Food Storage Guidelines
Food storage plays a crucial role in food safety practices. Each restaurant has the responsibility to store their products in the right way, whether freezer/ refrigerator or low moisture room/ dark room. Storage depends on the type of product but fundamentally they should be kept clean and safe. When storing food, follow these Food Storage Tips.
Tip #6 Minimize Cross-Contamination Risks
Cross contamination is a big food safety hazard in the kitchen it's vital to ensure that all risks of infection are prevented. Cross contamination can occur in various ways:
People to Food
Food to Food
Chemicals to Food
Use these tips on How to Prevent Cross Contamination in Food and ensure food safety is met!
Tip #7 Know your Hazard spots
Knowing your kitchen and routine's hazard spots ensure restaurant and staff safety. View the Most Common Kitchen Hazard Spots known to Chefs and download a free template to use in the kitchen.