Braised Duck Terrine
Red meat lovers will enjoy this flaming red tapas creation, a braised duck terrine that's a treat for both the eyes and appetite. The secret is its assortment of ingredients that includes star anise, mandarin peels, rice wine and more.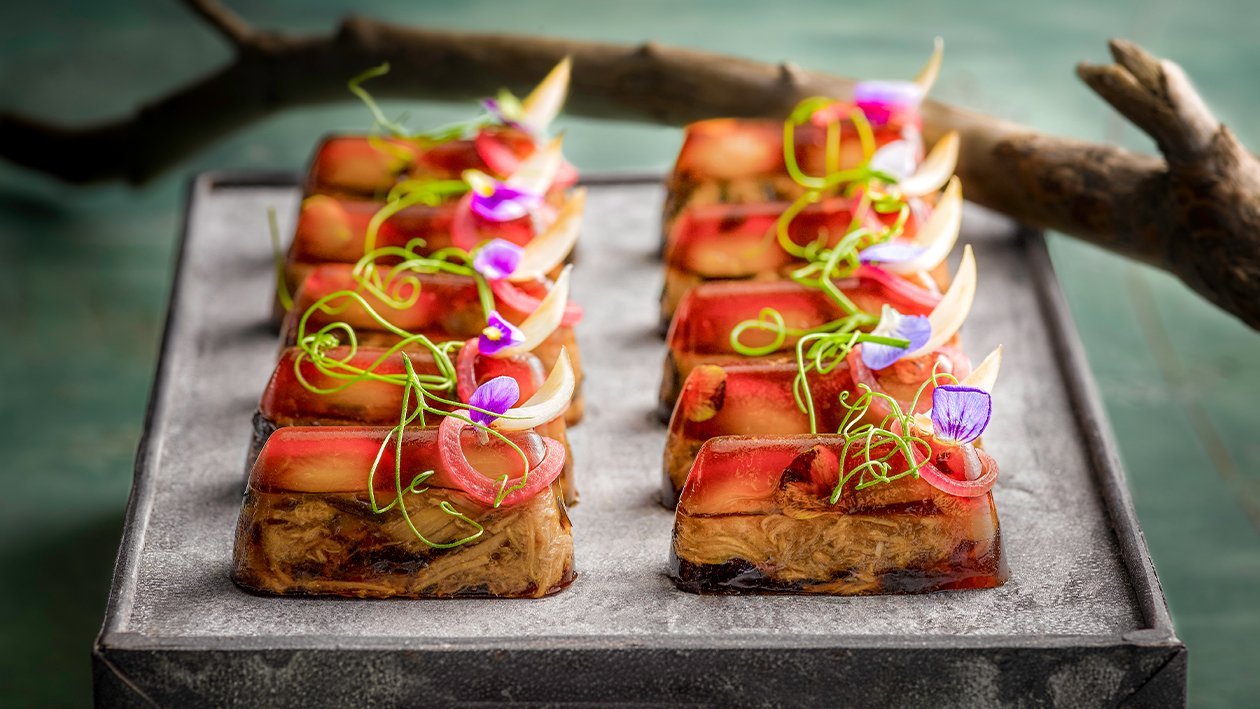 Ingredients
Braised Duck Terrine
Chuan Xiong (Ligusticum Wallichii)

5.0 g

Light Soya Sauce

200.0 ml

Braised Duck Meat, shredded

800.0 g

Enoki Mushroom, blanched

120.0 g

Canned Braised Peanut, halved

50.0 g
Pickled Lily Bulb
White Wine Vinegar

100.0 ml
Assemble and Garnish
Purple Edible Flower, washed

10.0 g
Preparation
Braised Duck Terrine

Rub salt over the duck and marinate for 20 mins.
Wash off salt and wax from under wing and thighs of the duck.
Scald duck with boiling water for 2 mins and set aside.
In a large pan, add 60 ml of oil.
Add brown sugar and rock sugar and cook till caramelised.
Stir fry garlic, shallots, ginger and galangal till fragrant.
Add dark soya sauce and light soya sauce and bring to boil.
Add water and Knorr Concentrated Chicken Stock and bring to boil.
Add duck and bring to boil.
Lower heat, cover and let it braise for 1 to 1.5 hours.
Remove duck, let it rest for 30 mins and shred it when it is cooled.
Strain, remove spices and top layer of oil from braising liquid.
Transfer 2 L of braising liquid to another pot.
Bloom the gelatine sheets and add it to the warm braising liquid.
Place everything in a terrine mould and allow to set in the fridge overnight.

Pickled Lily Bulb

In a pot, boil sugar, white wine vinegar and water.
Add lily bulb and let it pickle for 2 hours.

Assemble and Garnish

Cut terrine into bite-sized pieces and garnish with pickled lily bulb and coriander cress.