Chicken Ballotine with White Chocolate Salted Egg Prawn
If variety is the spice of life, then this chicken-prawn-white chocolate-salted egg combination will add a spark to any dinner table. Who can resist juicy prawn-stuffed chicken with the heady blend of white chocolate and salted egg?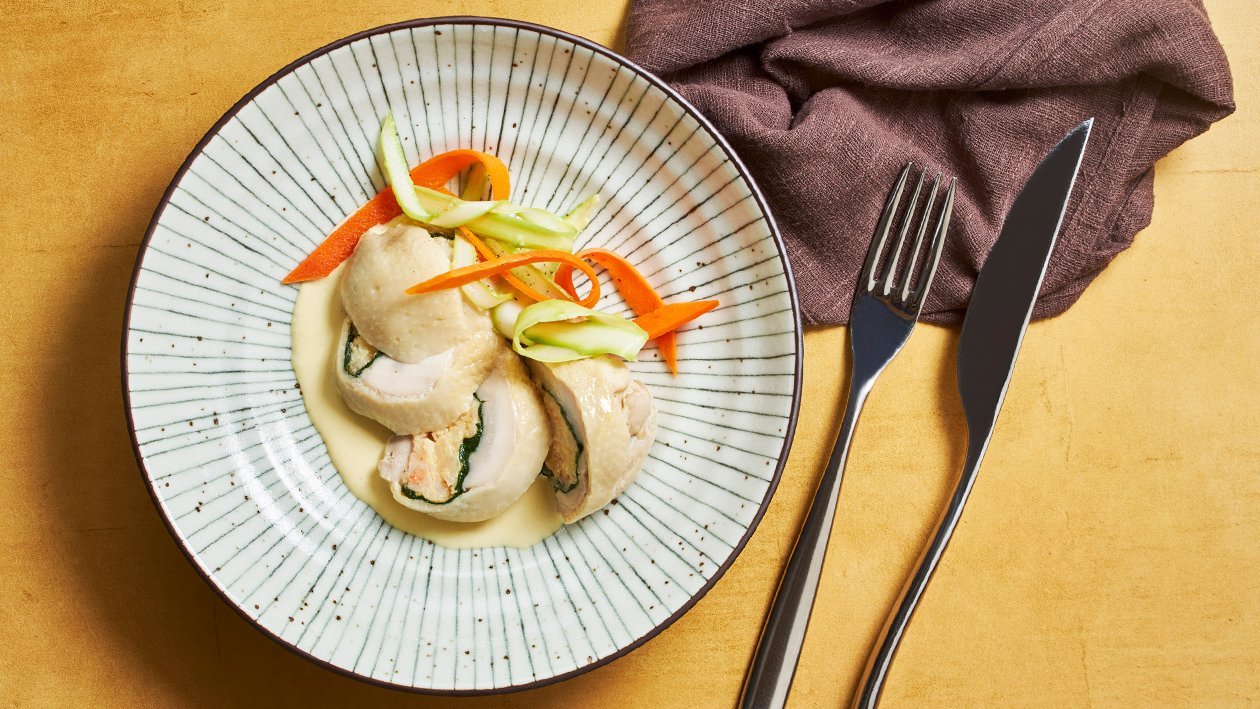 Ingredients
Chicken Ballotine
Boneless Chicken Thigh

4.0 pc

Shelled Shrimp, deveined

100.0 g

Shaoxing Rice Wine

15.0 ml

Carrots, thinly sliced

20.0 g
White Chocolate Beurre Blanc
Lemongrass, sliced

20.0 g

White Pepper Corn, crushed

10.0 g
Preparation
Chicken Ballotine

Sliced chicken thigh, flatten with cutlet bat.
For shrimp farce, chopped shrimp into coarse texture and then add in remaining ingredients and seasoning, keep in fridge for 15 minutes.
Flatten chicken thigh, stuffed with shrimp farce & sautéed spinach.
Use Steamer and steam for 10 minutes. Brown chicken in pan. Let them stand for about 1 minute before cut into half.

White Chocolate Beurre Blanc

In a small sauce pan, add shallot, lemongrass, bay leaf, peppercorn, white wine, bring to boil and simmer, add fish stock reduce for few minutes, add in cream simmer and reduce.
Slowly whisk in white chocolate and Knorr salted egg powder until fully blended. Seasoned with salt, pepper, dash of lemon juice and drop a piece of cold butter flakes monte au beurre.

Plating

Arrange chicken ballotine on plate, garnish with asparagus, carrot ribbon. Dress with white chocolate salted yolk beurre blanc.