Cream of Pumpkin-Salted Egg Soup
Impress your guests with this creamy pumpkin soup with a twist. Accompanied with delicious lemon-grass skewers of scallops, this satisfying soup is a tantalising conversation starter to kick-start the rest of the meal.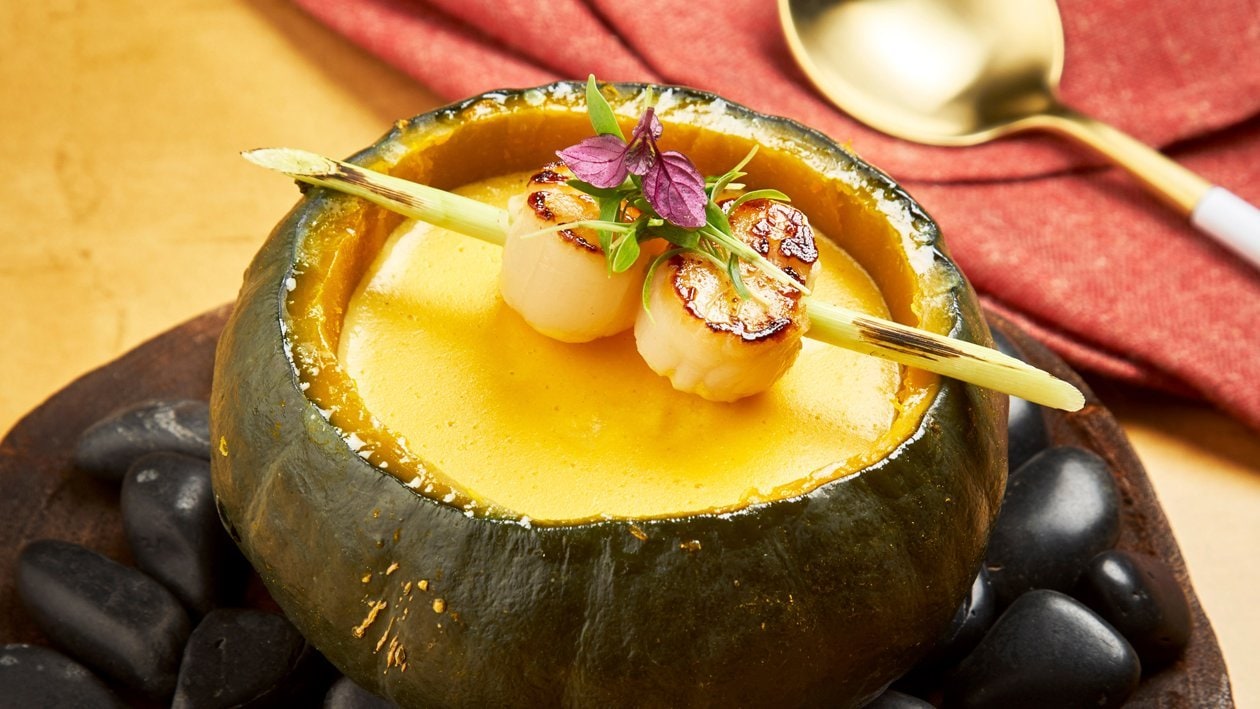 Ingredients
Pumpkin Puree
Japanese Pumpkin

1000.0 g
Salted Egg Paste
Pumpkin-Salted Egg Soup
Lemon Grass Skewers Scallop
Hokkaido Scallops

300.0 g

Lemograss 'Skewers', 5cm length

10.0 pc
Before Serving
Preparation
Pumpkin Puree

Preheat steamer.
Cut the top of the pumpkin and steam the pumpkin till cook.
Using a spoon or a partisan scoop remove the meat of the pumpkin.
In a pot, sweat onions and carrots till soft.
Add in pumpkin, sauté till it is caramelized.
In another pot, mix water and Knorr chicken seasoning power and bring to boil
Once vegetables are soft, blend all ingredients with a kitchen blender.
Set aside.

Salted Egg Paste

In a pot, melt margarine, add in evaporated milk and bring to boil
Mix in seasonings and whisk in Knorr golden salted egg powder.
Bring paste to boil and set aside.

Pumpkin-Salted Egg Soup

Mix all the ingredients expect cream and butter. Bring to boil.
Fold in cream and bring to boil.
Set aside.

Lemon Grass Skewers Scallop

Lightly slit the scallops with the paring knife, pierce the lemon grass thru the scallop.
Season with salt and pepper.
Grill the scallops till cook.
Set aside.

Before Serving

Bring pumpkin soup to boil and whisk in butter.
Pour into the pumpkin "bowl"
Garnish with lemongrass skewered scallops and watercress sprouts.
Ready to serve.