Dang Gui Glazed Chicken Rice
Chicken rice as a tapas selection? Why not! These bite-sized chicken rice nibbles are served up with dang gui, a Chinese staple that is used in traditional health supplements. Ginger is used for additional fragrance and flavor.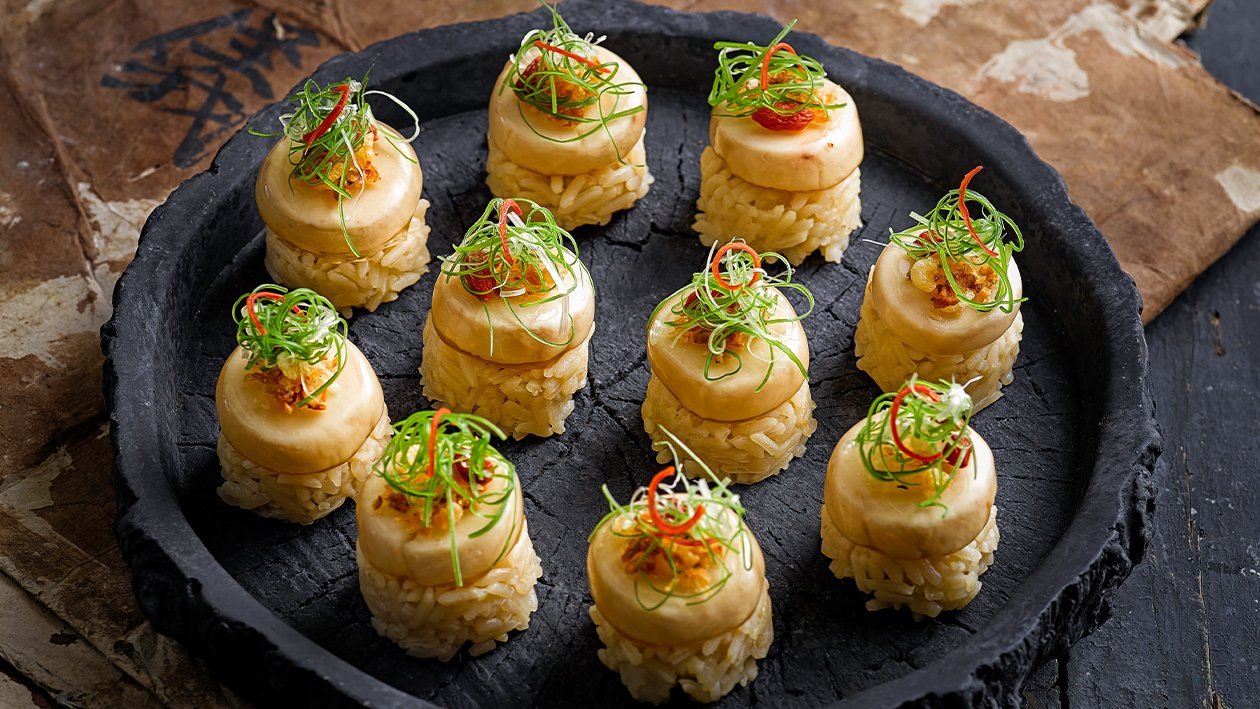 Ingredients
Dang Gui Glazed Chicken
Fragrant Rice
Bai hu Jiao/ White Peppercorn

7.0 g

Wolfberries, soaked

2.0 g

Spring Onions, curls

5.0 g
Preparation
Dang Gui Glazed Chicken

Marinate chicken breast with soaked dang gui, red dates and sliced ginger for at least an hour.
Wipe off herbs, roll chicken breast into a roulade and sous vide it for 28 mins at 65°C.
Portion the chicken.
In another pot, add 500 ml of water, Knorr Concentrated Chicken Stock, dang gui and simmer for 15 mins. Remove dang gui. Pour in remaining 500 ml of water, mix well vegetal into the dang gui stock and bring to boil.
Glaze chicken and set aside

Fragrant Rice

In a hot medium-sized pot, add oil and sweat the garlic, shallot and galangal for about 2 min in medium heat.
Add lemongrass, pandan leaf and rice. Continue stirring to prevent mixture from sticking to the pot. Cook until fragrant.
Add Knorr Concentrated Chicken Stock and water and let simmer for 30 min.
Portion into 10 gm each and mould.
Plate and assemble, then garnish before serving.