Fried Salmon Belly, Head in a Salted Egg Yolk & Coconut Soup
A most satisfying way to get Omega 3 acids, this delicious soup is rich with everything good. Salted egg yolk gives added flavour to the creamy coconut milk base for a deliciously golden broth.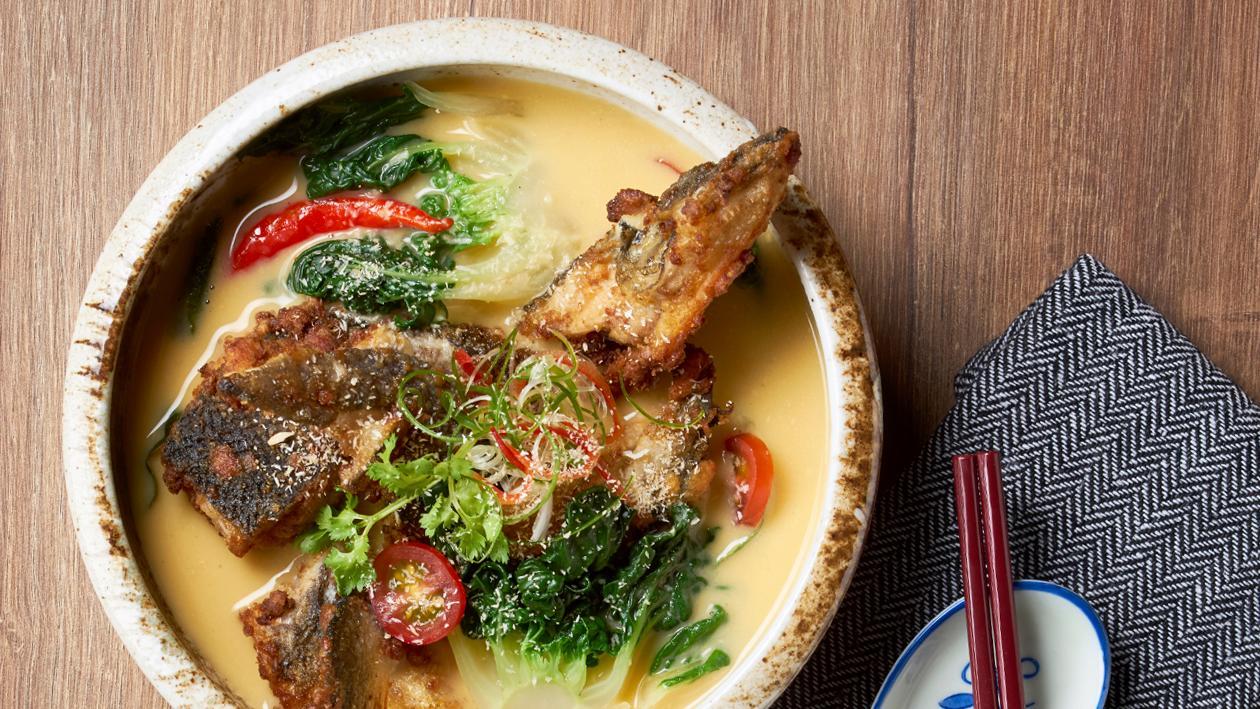 Ingredients
Marinate
Fried Salmon Belly/Head In A Salted Egg Yolk & Coconut Soup
Chilli Padi, deep fried & sliced

4 g

Deep Fried Lime Leaves, crushed

4 g

Oil (for shallow frying of the salmon belly/head)

200 ml

Young Ginger, sliced thinly

50 g

Pickled Mustard Greens, rough chopped

40 g

Tomatoes, cut into wedges

240 g

Pickled Plum, mashed

40 g

Iceberg Lettuce or any Asian Leafy Greens, washed and cut into pieces

40 g

Lemongrass Stalk (white part), finely sliced

25 g
Garnishing and Accompaniment
Spring Onions, julienned

1 pc

Red Chilli, julienned

10 g

Cherry Tomato, sliced

20 g

Desiccated Coconut, roasted

20 g

Fragrant Rice, steamed

480 g
Preparation
Marinate

Sprinkle and rub the salted egg powder, salt and white pepper powder on the fish to marinate them for 1 hour.

Fried Salmon Belly/Head In A Salted Egg Yolk & Coconut Soup

Rub fish with corn starch & rice flour.
Heat up oil and fry the fish for about 2 mins. Turn it over and continue frying until brown and crispy. Remove and drain. Set aside.
Using a whisk, mix the chicken seasoning powder with water to make chicken stock. Stir well and set aside.
Heat up oil and sauté ginger and sesame oil until fragrant. Add tomato, lemongrass, pickled mustard greens, followed by picked plum.
Add in the chicken stock. Cover and bring to a boil over high heat for 5 minutes. Open the lid, stir and turn down the heat to cook for another 10 minutes. Remove cooked ingredients with a strainer.
Blanch the vegetables in the boiling soup and set aside.
Add in chilli padi, lime leaf and fish pieces to the soup and boil for a couple of minutes. Remove the fish and set aside.
Whisk in evaporated milk, salted egg powder, salt and fish sauce to taste. Add in coconut milk just before it boils and turn off the heat.

Garnishing and Accompaniment

In a bowl, place the blanched vegetables, fried fish and pour in the soup. Garnish and serve steamed rice.