Grilled Pork Cutlet with Bearnaise Sauce
Creamy herb sauce paired with succulent grilled pork cutlets makes for one of those unforgettable meals everyone will just crave for. With a side of golden crispy pommes pont-neuf, this is sure to become a favourite of your guests.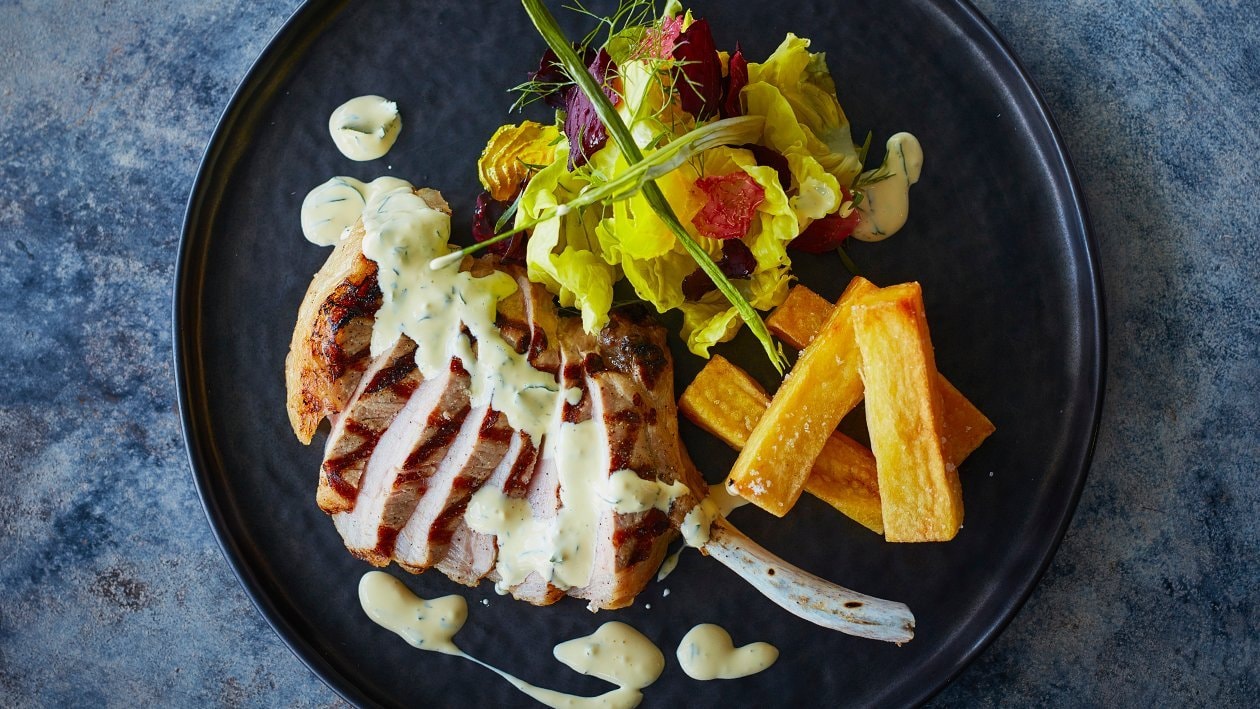 Ingredients
Pork Cutlets
Pork Cutlet, bone in, trimmed and cleaned

1200.0 g
Salad
Mixed Salads, washed and cleaned

80.0 g

Spring Onions, blanched and cut lengthwise

200.0 g

Red Beetroots, sliced thinly and blanched

30.0 g

Golden Beetroots, sliced thinly and blanched

30.0 g

Chioggia Beetroots, sliced thinly and blanched

30.0 g
Vinaigrette
Extra Virgin Olive Oil

100.0 g
Crispy Potato
Potato, washed and peeled

500.0 g
Bearnaise Sauce
Before Serving
Preparation
Pork Cutlets

Grill the pork cutlets on both sides.
Season with salt and pepper.
Bake in oven at 160 degree Celsius for 10 mins.

Salad

Blanch the spring onions, cut lengthwise.
Dry the slices of beetroot and the spring onion in the oven on a low temperature until they become crispy.
Season with salt.

Vinaigrette

In a mixing bowl, mix well lemon juice and salt.
Slowly whisk in olive oil till mixture emulsify.

Crispy Potato

Cut potatoes in bars approximately 5X2X2 cm.
Blanch the potatoes in boiling water with salt until they are soft.
Let the cool down.
Bring oil to a temperature of 185 degrees Celsius.
Deep-fry the potatoes until golden and crispy.
Season with salt.

Bearnaise Sauce

Heat up the Knorr Hollandaise sauce.
Add tarragon vinegar.
Fold in chopped tarragon.

Before Serving

Dress the salad, plate it and stick the crispy vegetables in.
Slice the cutlet.
Put the pommes pont-neuf next to the cutlet or serve them separate.
Drizzle béarnaise sauce.
Ready to serve.