Herbal 'Bak Kut Teh'
Bak Kut Teh, which literally translates to "meat bone tea", is much more than its name suggests. Consisting of prime pork ribs simmered in a delightful broth of herbs and spices, this herbal dish is perfect for any occasion.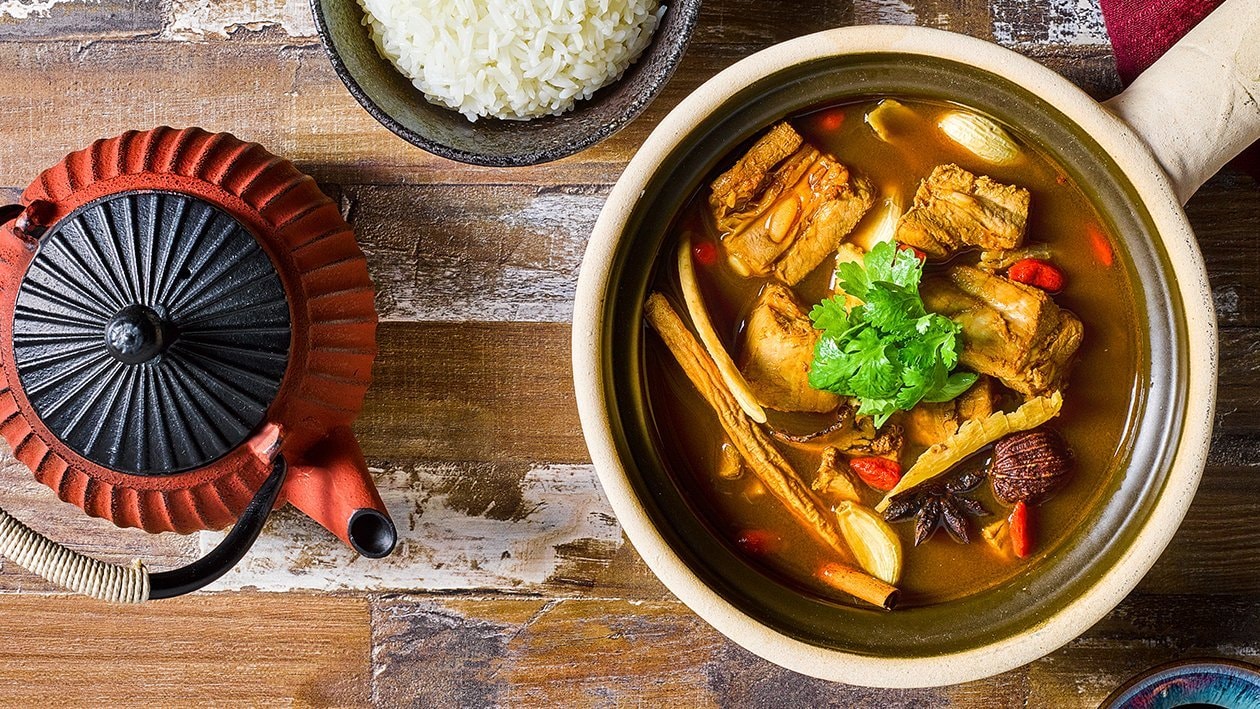 Ingredients
Pork Ribs
Soup Base
Old Garlic, whole clove

80.0 g

Dang Gui/ Angelica Sinensis

20.0 g

Huang qi/ Astragalus Propinquus

10.0 g

Chuan Xiong (Ligusticum Wallichii)

20.0 g

Gan Cao (Glycyrrhiza Uralensis)

20.0 g

Dang Shen/ Codonopsis Pilosula

20.0 g

Bai hu Jiao/ White Peppercorn

10.0 g

Yuzhu/ Polygonatum Odoratum

20.0 g

Star Anise/ Illicium Verum

2.0 g

Gui Pi/ Cinnamomum Cassia

6.0 g
Before Serving
Jasmine Rice, cooked

1000.0 g

Wolfberries, soaked

10.0 g
Preparation
Pork Ribs

Marinate pork ribs with Chicken Seasoning Powder overnight.
Bring water to boil, blanch pork ribs and rinse them under running water.
Pat dry and set aside.

Soup Base

Bring water to boil and add in all the Chinese herbs.
Simmer for 40 mins.
Add in pork ribs and old garlic into stock and simmer for another 30 mins.
Season the broth with Basic Stock Reduction, rock sugar and dark soya sauce.

Before Serving

Heat up broth and transfer it onto serving bowl.
Transfer dark soya sauce and chilli into condiment bowl.
Serve with rice.
Garnish it with coriander leaves.
Ready to serve.