Lamb Spareribs with Pimento Mustard Dressing, Lime Pickled Vegetables
There's nothing like a delicious, fuss-free recipe that makes you look like the superstar chef you know you already are. This impressive pairing of marinated lamb spareribs and zesty, lime-pickled vegetables is perfect for entertaining guests.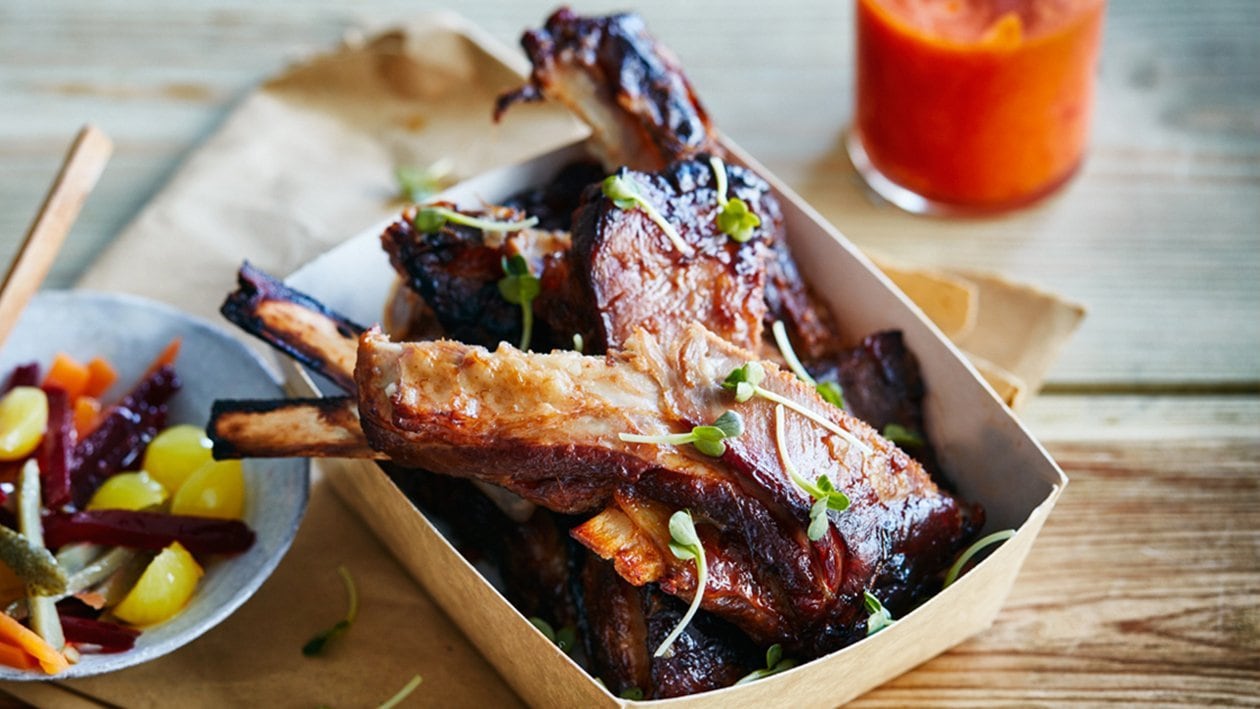 Ingredients
Lamb Spareribs and Marinade
Pimento Mustard Dressing
Lamb Marinade (from above)

300.0 g
Lime Pickled Vegetables
Celery, peeled and sliced

200.0 g
Before Serving
Preparation
Lamb Spareribs and Marinade

Mix well all ingredients, except the spare ribs, in the mixing bowl.
Reserve 300gm of marinade for later use (in Pimento Mustard Dressing).
Put all of lamb spareribs into the mixing bowl and marinate for 12 hours.
Transfer mixture and lamb into a pot and cook it at low heat till they are tender and soft, but meat should not be falling off the bones.
Remove meat and let it rest on the insert.
Reduce the sauce to half.

Pimento Mustard Dressing

Roast the red bell peppers at 200 degree celsius for 20mins, then remove skin and seeds.
Blend roasted pepper into a puree and let it cool.
Once chilled, mix in the rest of the ingredients.
Transfer it onto a serving glass or shooter glass.

Lime Pickled Vegetables

In a pot, bring water and sugar to boil, add in Lime Seasoning Powder and mix well.
Put all vegetables in and let it pickle overnight.
Remove and pat dry before serving.

Before Serving

Heat up meat and sauce.
Serve pickled vegetables onto condiments bowl.
Place meat on serving board and drizzle sauce over it.
Served with pickled vegetables and pimento mustard dressing.
Lastly garnish with coriander cress before serving.