Lemongrass Tamarind Chicken Roll
Diners will appreciate the fragrance of these bite-sized chicken rolls, accented by tamarind, lemongrass and lime leaves. A tasty spiced paste made from shallots, red chillies and candlenuts add a spicy kick to these tapas.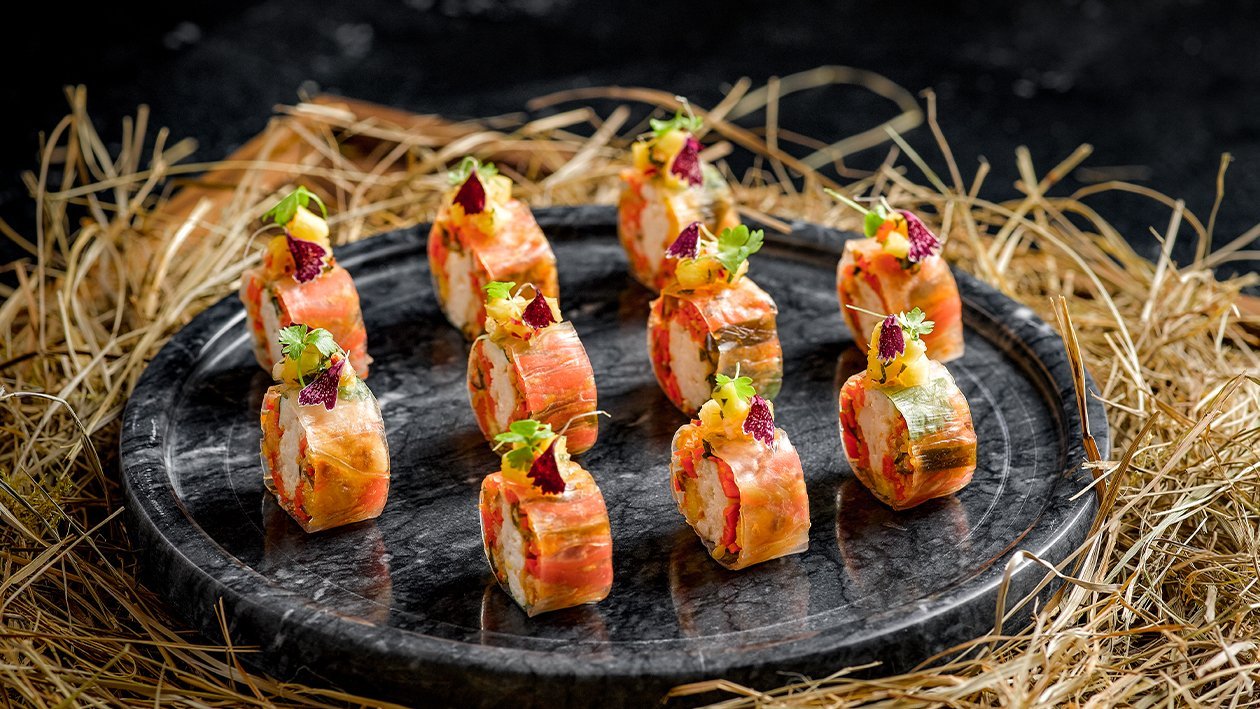 Ingredients
Chicken Roulade
Pickled Vegetables
Cucumber, thinly sliced

120 g

Carrots, thinly sliced

80 g
Spice Paste
Assembly & Plating
Vietnamese Rice Paper

2 pc

Romaine Lettuce, thinly sliced

20 g

Pineapple, diced small

90 g

Purple Edible Flower, washed

20 g
Preparation
Chicken Roulade

Remove the skin of chicken breast, cut into half and marinate with Knorr Concentrated Tamarind Sauce, lemongrass and lime leaves overnight.
Sous vide chicken for 25 min at 65°C.
Hand shred breast meat into thin shreds and chill.

Pickled Vegetables

Season carrot and cucumber, add salt and sugar to pickle them.
Wipe off salt and sugar after 15 mins.

Spice Paste

Using a Vitamix, add in corn oil, turmeric powder, red chillies, shallots and candlenut and blend into a paste.
Mix paste together with pickled vegetables.
Add in lemon juice, rice vinegar, black and white sesame and seasoned to taste.

Assembly & Plating

Dilute Knorr Concentrated Tamarind Sauce with water, lightly brush it onto Vietnamese rice paper until it becomes translucent.
Place condiments and shredded chicken onto the rice paper in a neat pattern and roll it tightly.
Slice it into a coin-like shape and garnish with pineapple salsa.