Market Seafood Arancini, Assam Foam
This tapas dish has all the elements of an outstanding appetiser—from its good looks to its fresh ingredients like tiger prawns, crab claws, fragrant lemongrass, and Knorr's Concentrated Tamarind Sauce.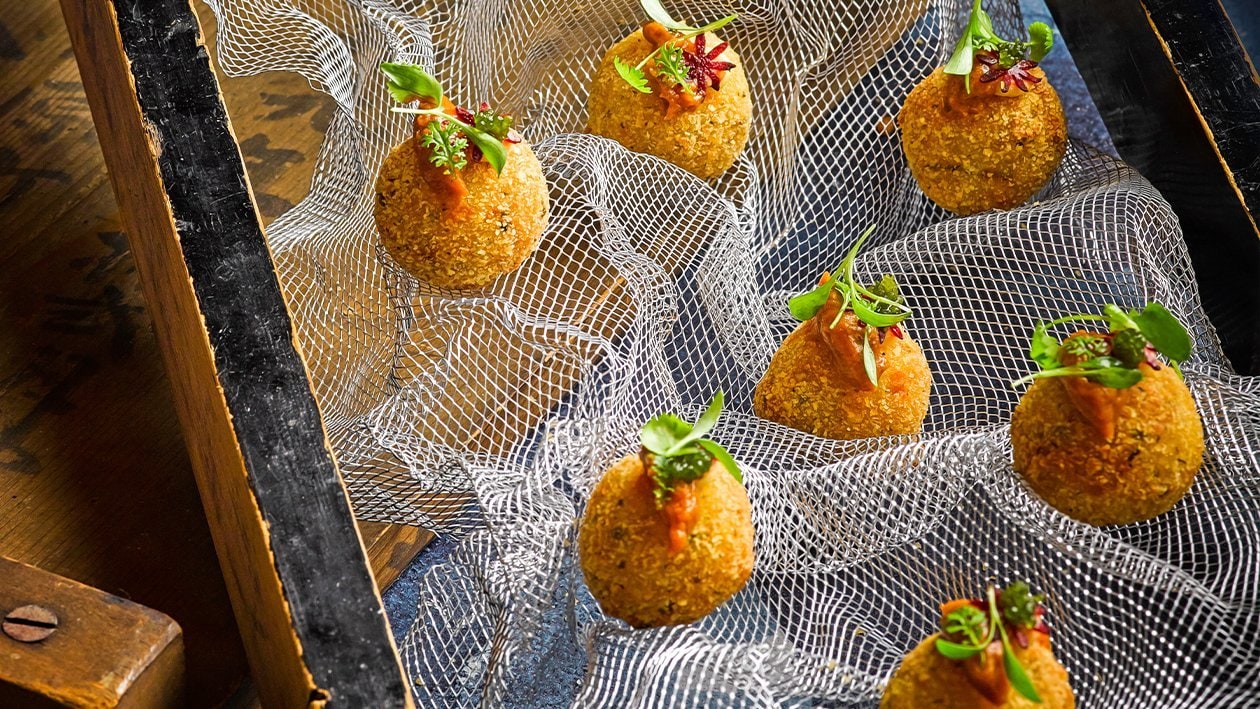 Ingredients
Arancini
Coriander Stem, washed

3.0 g

Tiger Prawn, diced

100.0 g

Fresh Scallop, diced

100.0 g

Spearmint Chiffonade

8.0 g
Assam Foam
Lemongrass Stalk, chopped

30.0 pc

Beetroot, moulded round

40.0 g
Preparation
Arancini

In a medium sauce pot, sweat onion, shallots, coriander stem and bay leaf with oil on a low-medium heat.
Add arborio rice and toast until fragrant.
Deglaze with white wine and saffron.
Add 100 ml of clam and fish stock and cook over low heat until stock dissolves.
Repeat until all stock is used.
In a separate pan, sear tiger prawns, crabmeat and scallops on high heat until caramelised.
Season to taste and set aside.
Once risotto is moist, add butter, parmesan cheese, cooked seafood and season to taste.
Add chopped mint and set aside to cool.
Roll risotto into balls and coat it with flour, egg and breadcrumbs.
Fry arancini in 180°C until crispy.

Assam Foam

In a food processor, blend lemongrass, shallots, galangal red chillies and olive oil until smooth.
In a medium sauce pot, cook rempah until fragrant.
Add Knorr Concentrated Tamarind Sauce and cook for 5 mins.
Add the above Chicken Stock and season to taste.
Reduce mixture by half.
Transfer into siphon and foam the mixture.
Plate and serve.