Potato Croquettes with Ham and Mozzarella
These all-time favourites turn into an impressive dish with crispy pancetta and luscious truffle mayonnaise. Mashed potatoes are coated with a breadcrumb mixture and then deep-fried for a crunch you can't believe.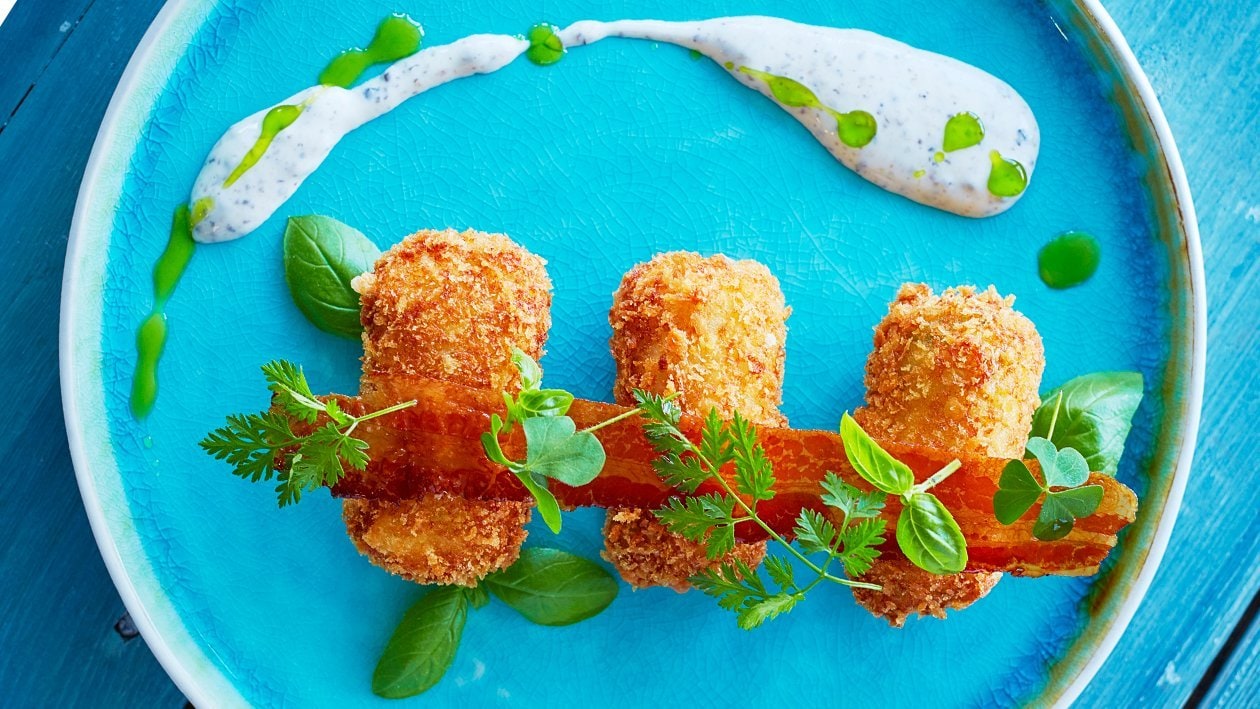 Ingredients
Mashed Potatoes
Potato Croquettes
Mozzarella Cheese

225.0 g

Mashed Potato, readied

600.0 g
Coating
Crispy Pancetta
Pancetta, thinly sliced

200.0 g
Truffle Mayonnaise
Before Serving
Preparation
Mashed Potatoes

Bring water and milk to 90 degree Celsius.
Turn off heat and fold in Knorr Potato Flakes.
Bring to boil, fold in butter and salt.
Bring out of heat and fold in cream fraiche.

Potato Croquettes

Mix all the ingredients together.
Season the mixture with black pepper.
Put the mixture in a piping bag and pipe into a long cylinders on an oven tray with baking paper.
Semi-freeze the cylinders and cut into pieces of 5 cm.

Coating

Coat the potato with flour, egg (from fresh egg whites) wash and breadcrumbs.
Let in sit in the chiller for 30mins.
Preheat fry at 180 degree Celsius.
Deep fry for 4 mins till golden brown.

Crispy Pancetta

Place the thinly sliced pancetta on baking paper and cover it with another baking paper.
Place between 2 oven racks so the pancetta will be pressured.
Bake the pancetta in the oven on 170 degrees Celsius for 8 minutes.
Remove the top baking paper and let the pancetta cool down.

Truffle Mayonnaise

Mix all the ingredients together.

Before Serving

Serve 3 croquettes per portion.
Place the pancetta on top.
Finish with some truffle mayonnaise.
Garnish with fresh herbs.
Ready to serve.