Potato, Truffle and Cheese Cromesquis
Indulge your diners with this Spanish inspired tapas that oozes out truffle flavoured cheese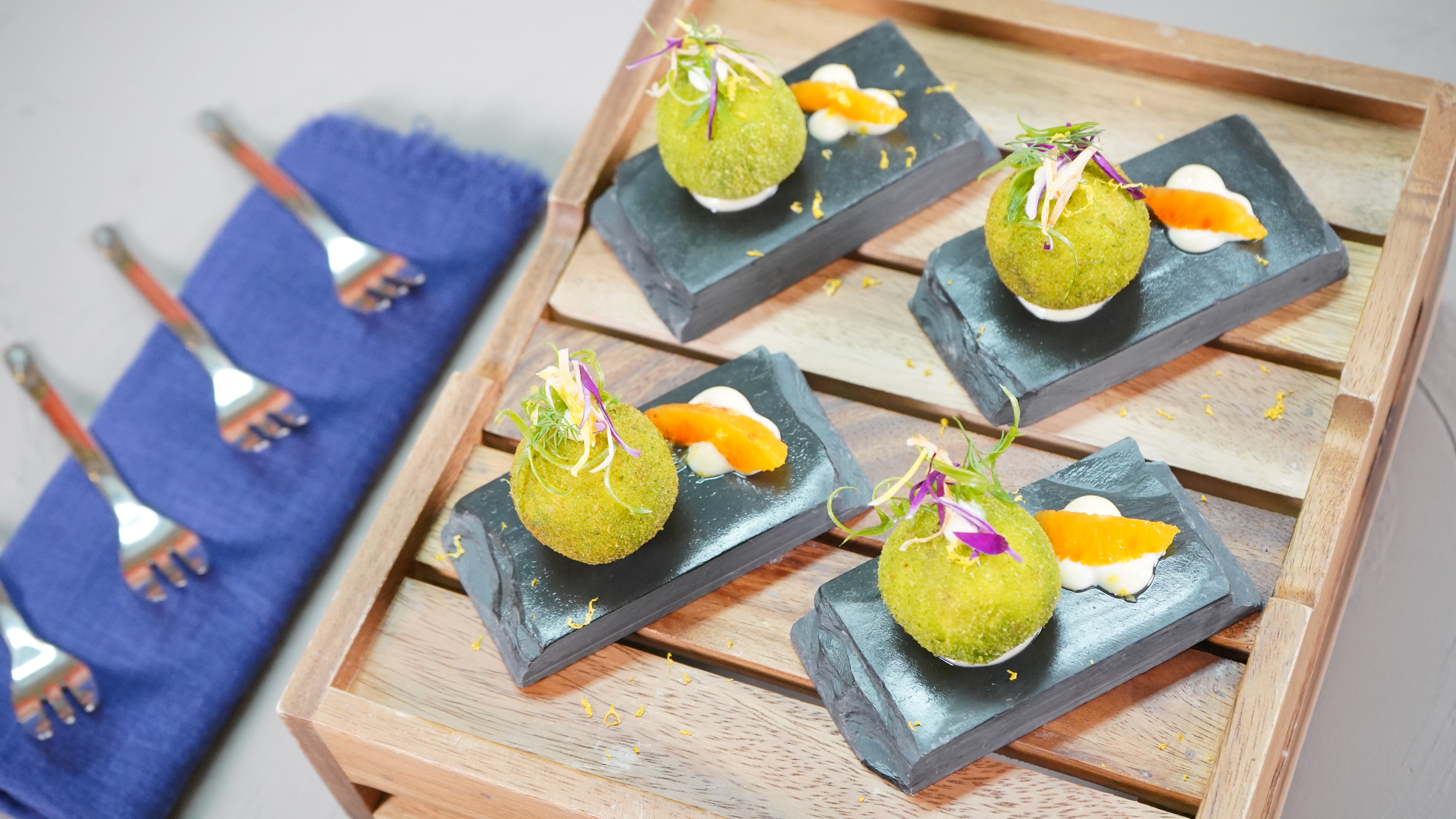 Ingredients
Potato, Truffle and Cheese Cromesquis
Truffle Cheese Sauce
Knorr Instant Cheese Powder Mix 205g
/g
40.0 g
0%
Boiling Water
/ml
200.0 ml
0%
Truffle Paste
/g
20.0 g
0%
Chives, chopped
/g
5.0 g
0%
Mash Potato
Knorr Potato Flakes 2kg
/g
50.0 g
0%
Hot Water
/ml
200.0 ml
0%
Caramelised Onion
/g
20.0 g
0%
Chorizo, diced
/g
20.0 g
0%
Knorr Chicken Seasoning Powder 1kg
/g
5.0 g
0%
Parsley Bread Crumbs
Breadcrumbs
/g
100.0 g
0%
Garnish and Condiments
Best Foods Real Mayonnaise 3L
/g
100.0 g
0%
Orange, segments
/g
40.0 g
0%
Spring Onions, curls
/g
4.0 g
0%
Edible Flowers
/g
4.0 g
0%
Truffle Cheese Sauce
Mash Potato
Parsley Bread Crumbs
Garnish and Condiments
Spring Onions, curls

4.0 g
Preparation
Truffle Cheese Sauce

Bring water to boil, whisk in Knorr Instant cheese powder. Mix well and bring to boil.
Fold in sour cream, truffle and chives
Mold into 10gm silicon mold and blast freeze it.

Mash Potato

Mix well Knorr Potato Flakes with hot water and mix well.
Fold in sautéed onions and chorizo
Season with Knorr Chicken Seasoning Powder.
Portion into 20gm each and set aside

Parsley Bread Crumbs

In a blender, blend all the ingredients together and set aside.

Garnish and Condiments

Prepare ingredients as mention above.

Assemble

Wrap potato with frozen cheese sauce filling.
Pane with flour, egg wash and parsley breadcrumbs.
Deep fried at 160 degree Celsius for 4mins 
Garnish and serve.