Salted Egg Yolk Lava Potato Soufflé
A soufflé with a difference, this light and golden potato version has a hidden gem. Get into its creamy centre, and be greeted with a flow of rich salted egg. This is certainly an elegant and ethereal dish to include in your menu.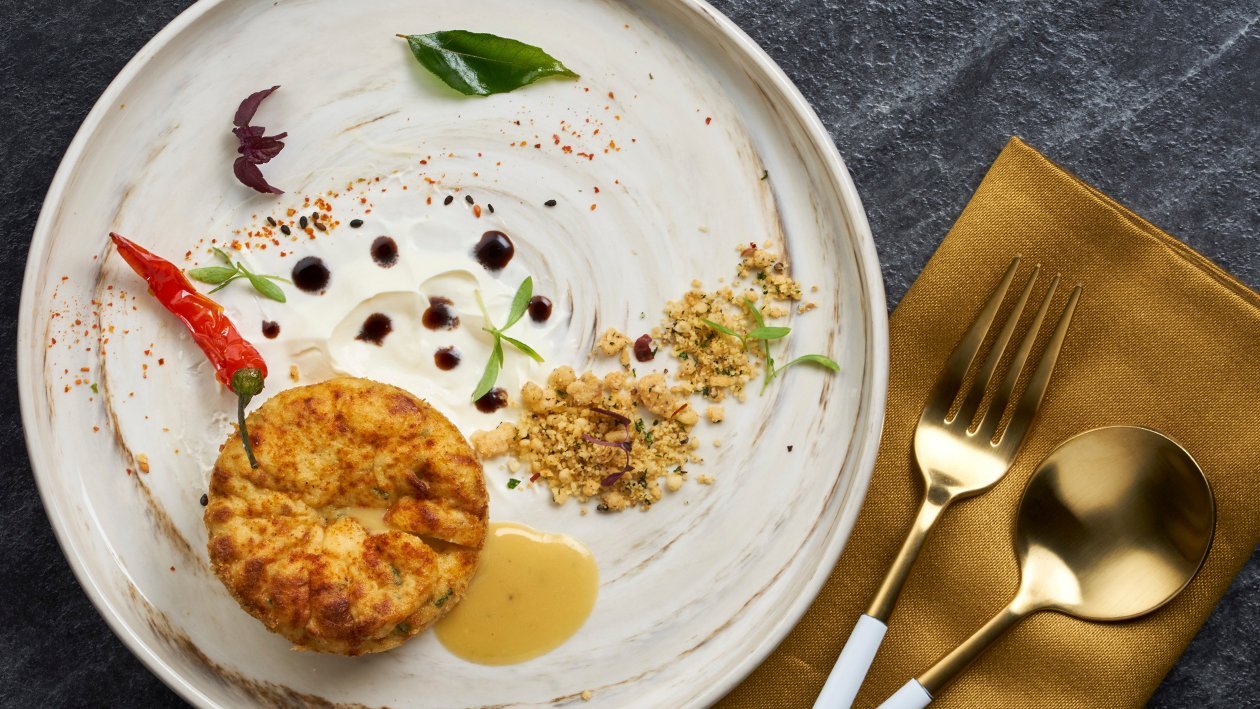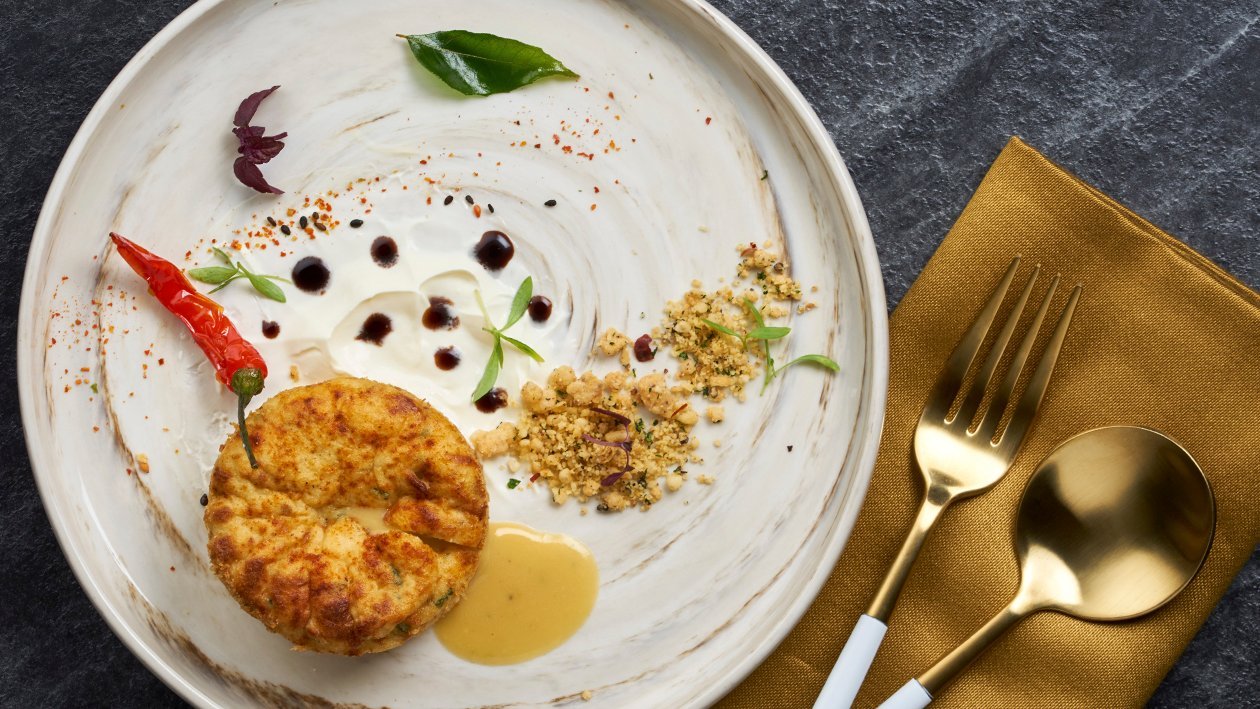 Ingredients
Potato Souffle
US Potato (skin-on)

150.0 g

Butter (at room temperature)

20.0 g

Mature Cheddar Cheese, grated

42.0 g

Parmesan Cheese, grated

15.0 g

Spring Onion/Chives, sliced

10.0 g

Black Pepper, grounded

1.0 g

Onion, diced and caramelised

16.0 g

Salted Egg Yolk Cube

20.0 g

Paprika Powder (for dusting)

1.0 g

Japanese Togarashi Powder

2.0 g

Balsamic Reduction

2.0 ml
Salted Egg Yolk Lava Cube
Preparation
Potato Souffle

Fill a pot with water enough to submerge the potatoes and bring it to a boil.
Once the water is boiling, reduce the flame and simmer the potatoes for 35-45 mins or until it is just cooked. Tips: Test for doneness by inserting a small knife into a potato. If minimal pressure is required, the potato is cooked.
Cool the potatoes in an ice water bath.
After it is cooled, peel off the skin and press the potatoes through a fine sieve and make sure there are no lumps. Set it aside in room temperature.
Preheat oven to 200°C.
Apply a generous amount of soften butter at room temperature evenly onto the ramekin, add the breadcrumbs and coat the sides of the ramekin. Repeat this for the remaining 4 ramekins.
In a large bowl, combine the cheeses, sliced spring onion/chives, salt, black pepper grind, caramelised onion, Knorr salted egg yolk powder and nutmeg powder.
Warm up milk and butter and add it into the mixture.
Whisk egg white in a large bowl until stiff peak. Tips: Place the large bowl above a pool of ice water bath to speed up the whisking process.
Gently fold in the egg white into the mash potato mixture.
Spoon 30 g of this mixture into the ramekin, add in a frozen salted egg yolk lava cube and top up with another 36 g of the mixture. Repeat this for the remaining 4 ramekins.
Place all 5 ramekins on a baking tray and bake it for 9 mins or until it is puffy and golden brown.
Once it is done, remove the baking pan from the oven and set it aside to cool for about 5 mins before unmoulding it. Sprinkle with the paprika powder.

Garnishing & accompaniments:80 g Sour Cream 1 g Micro Cress 2 g Japanese Togarashi Powder 2 ml Balsamic Reduction

Salted Egg Yolk Lava Cube

Fill a pot with oil and deep fry the curry leaves and chili padi. Fry for a few seconds and transfer them onto a strainer or paper towel to drain off the excess oil.
On a chopping board, lightly chopped the curry leaves and chilli padi.
In a bowl, combine milk, Knorr salted egg yolk powder, custard powder and butter.
Mix in the curry leaf and chili padi.
Pour the mixture into a mould lined with baking paper.
Set it inside the freezer until it is frozen.
Once it is frozen, remove it from the mould and divide it into 20 g each.