Seafood Gumbo Aspic
This chic tapas creation features a decadent seafood gumbo that's packed with fresh prawns, mussels, squid and clams. Pickled daikon adds a touch of sweet-sour flavour to the appetiser, while viola flowers bump up the presentation to a 10.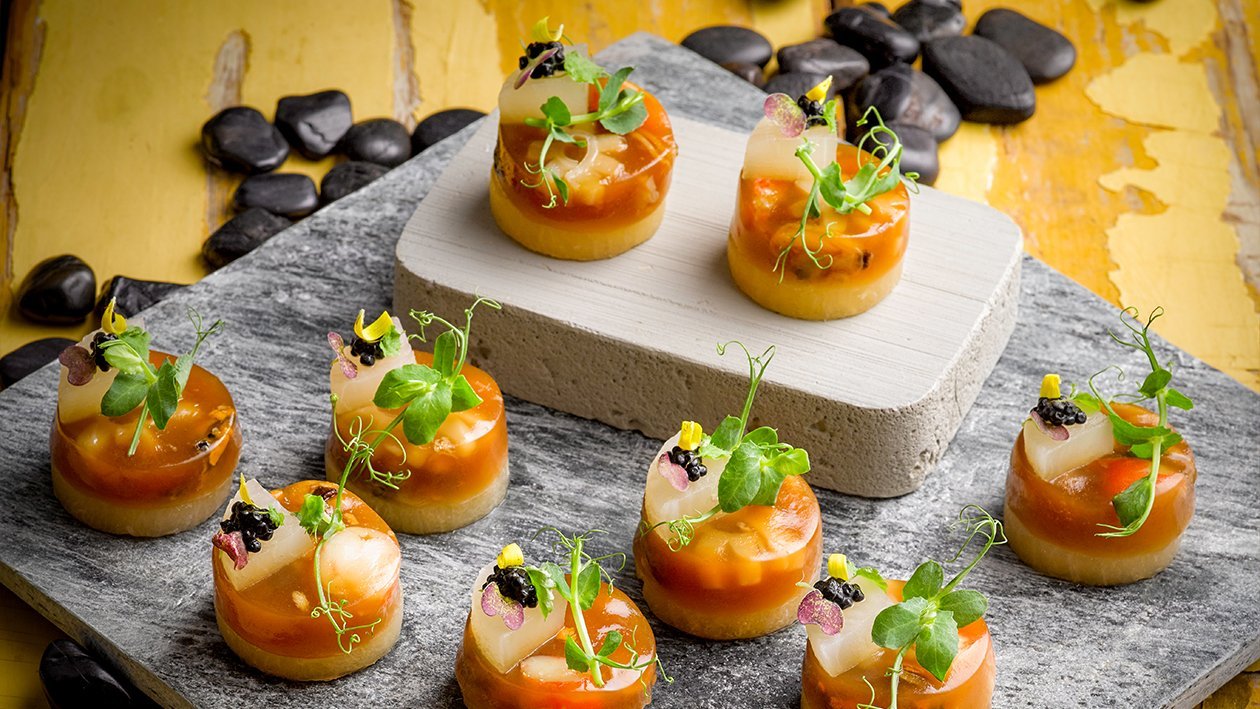 Ingredients
Gumbo
Black Ground Pepper

1.0 tsp
Pickled Daikon
White Balsamic Vinegar

100.0 ml
Plating & Assembly
Preparation
Gumbo

Bake shrimp shells at 195°C until it is dried and it starts to brown at the edges.
In an 8-quart pot, add Knorr Concentrated Chicken Stock, water, carrots, onions, celery, bay leaves, garlic, parsley, cloves, pepper, basil, thyme and shrimp shells and bring to boil.
Reduce heat and simmer for 2 hours.
Remove stock from heat and strain.
Press all liquid from the shells and vegetables before discarding them.
Return liquid to heat and reduce to 500 ml of stock.
Bloom gelatine and add it to gumbo.
Transfer to a mould and add seafood in.
Allow to set before unmoulding.

Pickled Daikon

In a pot, bring all ingredients to boil and cool down.
Pickle daikon for 2 hours.
Pat dry daikon and set aside.

Plating & Assembly

Garnish with pickled daikon radish and viola flowers.
Place aspic on the daikon and serve.