Tropical Tart
These pretty tapas will add fun and colour to any dining setting. A beautiful mandarin orange cream and gel, along with Knorr's Concentrated Tamarind Sauce, give these tarts a delightful zest that your diners will fall in love with.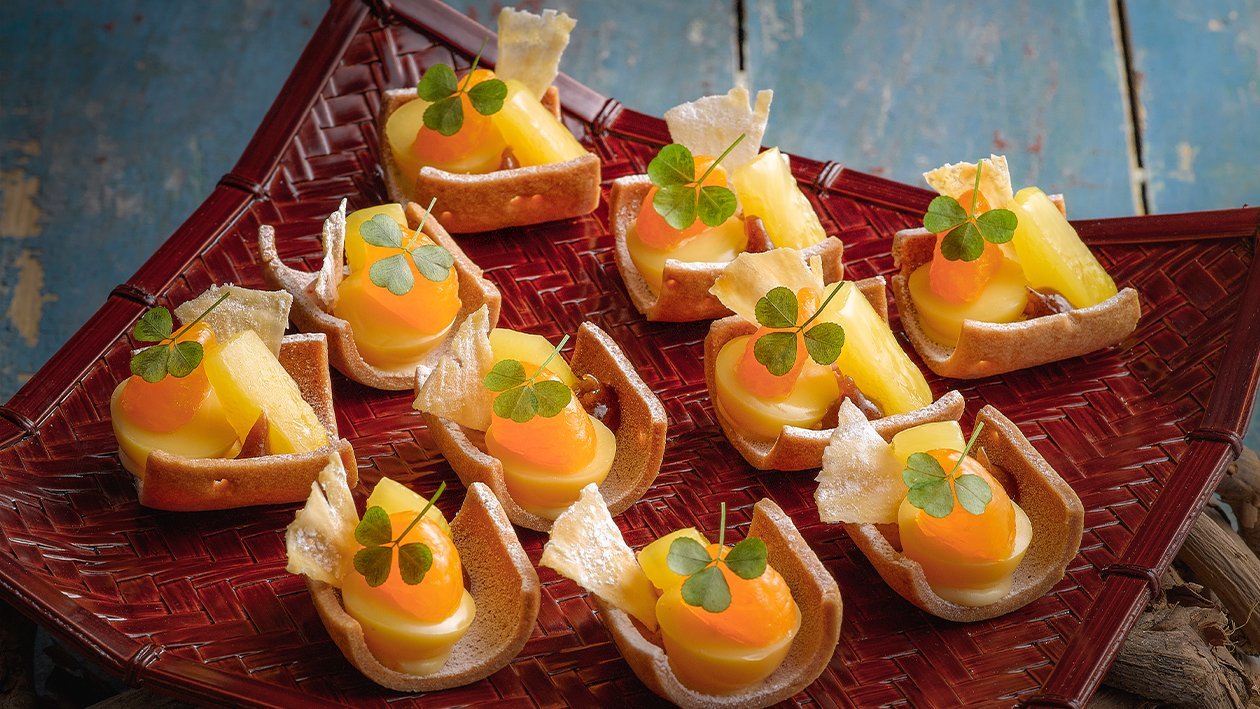 Ingredients
Tart Dough
Tropical Fruit Curd
Mandarin Orange Pastry Cream
Candia Cooking Cream

80.0 g
Mandarin Orange Gel
Tamarind Sauce
Gula Melaka, melted

40.0 g
Assemble and Garnish
Dried Clover Leaves

5.0 g
Preparation
Tart Dough

Cream butter and icing sugar lightly before adding egg and dry ingredients.
Mix well and rest for 2 hours.
Mould into tart rings and bake at 170°C until brown.

Tropical Fruit Curd

Boil purée.
Add egg and sugar and cook at 82°C.
Sieve and rest until 35°C.
Blend in butter.
Fill tart shell and chill for 20 mins.

Mandarin Orange Pastry Cream

Cream yolk and sugar while boiling the liquid.
Temper the yolk and boil for 2mins, before adding in the zest.
Rest for 2 hours before mixing well again before use.

Mandarin Orange Gel

Boil all ingredients and chill for 3 hours
Blend until smooth.

Tamarind Sauce

Mix Knorr Concentrated Tamarind Sauce with water and boil with sugar and agar.
Chill until set before blending smooth.

Assemble and Garnish

Pipe pastry cream onto tart and garnish with fresh fruits like mango cubes and fresh orange segments and fruit gel.