After a whirlwind year, the long-awaited 2021 arrived with a lot of fanfare – but also sharing the same restrictions and limitations carried over from 2020. With that said, diners in Singapore are enthusiastically donning their masks and heading to their favourite food establishments, which is great news for chefs and restaurant owners.
But the pandemic and shifting cultural trends have definitely shifted the direction of the food and beverage (F&B) industry, and it's up to you to ride these latest food trends to delight your diners in 2021.
Food Trend 1: Branding that focuses on more than food
In previous years, a restaurant's hallmark of excellence has generally been the quality of food served. Earn a Michelin star, and you're the talk of the town! (And can price your menu according to your top-class status.)
Today though, food quality is just one aspect of your restaurant's reputation. Your restaurant's branding can play an almost equally important role in attracting diners. What makes a good brand? In addition to your food and service, customers want to dine at a restaurant that shares the same values as them. 
This can mean choosing to use only using ethically-sourced ingredients in your restaurant, creating an Instagram-worthy environment with creative décor, having an inclusive culture that respects your diners' individual dietary preferences (such as respecting their decision not to eat animal meat), or something else that diners truly care about.
If you do choose to take a stand in these areas, be sure to tell diners about it! They'll appreciate you for the effort, and this can translate into more diners at your tables.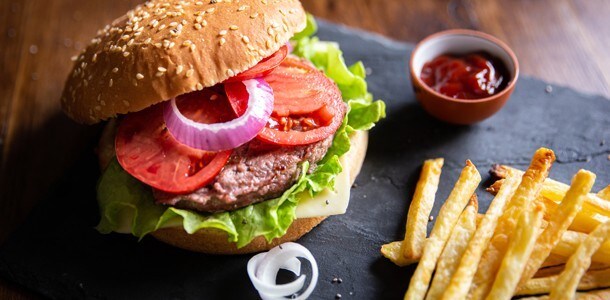 Food Trend 2: Plant-based meat
Across the globe, these "alternative meats" are taking the F&B industry by storm – and restaurant owners have been eager to add delicious plant-based meats to their menus.
By simply introducing a plant-based version of a popular meat dish, for example, restaurants and (especially) fast food chains have earned positive reviews from diners who are choosing flexitarian, vegetarian or vegan diets – either due to health, environmental or ethical considerations.
In Singapore, outlets like KFC and Swensen's have included "zero meat" burgers to their menus – while overseas, Subway, Burger King, and even IKEA have also successfully jumped onboard the plant-based trend.
Food Trend 3: Online cooking classes
One prominent trend that started in 2020 – and is set to continue throughout 2021 – is the rise of home cooking. Maybe it's the lack of other forms of entertainment, or perhaps it's because whipping up new dishes is a fun creative outlet. Either way, more Singaporeans have transformed into pretty successful home cooks over the past year! (At least, that's how it looks like on everyone's Instagram accounts.)
And with that, online cooking classes have become increasingly popular. From YouTube channels to personalised classes from reputable culinary schools, Singaporeans with a love for cooking now have more choices for learning professional culinary skills from the comfort of home.
Food Trend 4: Food delivery services
While food delivery services have been on the rise in the past two years, the COVID-19 pandemic (and resulting circuit breaker period) has no doubt accelerated this growth. In fact, just midway through 2020, research firm Statista forecast that our nation's online food delivery segment would explode to $647 million in revenue  by the end of last year.
And while profit margins for sales made via these platforms remains slim, they still offer a viable source of secondary income for your restaurant – provided you have the manpower (and kitchen) to deal with the influx of orders from the platforms.
Food Trend 5: Reducing plastic use, having eco-conscious packaging
This may seem contradictory, considering the additional amount of packaging being used due to takeaway and food delivery orders in 2020 – but restaurants and food delivery services are making efforts to "go green" by reducing the usage of single-use plastics.
Prior to the pandemic, popular brands Starbucks, McDonald's and KFC already started reducing (or completely eliminating) plastic straws from their premises. Meanwhile, food delivery services have also included options that allow (and even encourage) customers to use their own reusable cutlery, instead of requesting for plastic ones.
In 2021, this trend is set to continue – and you can join the small but growing list of restaurants that are taking a stand against the use of single-use plastics by incorporating more eco-friendly options into your operations (like offering paper straws or biodegradable takeaway packaging).
Recipe eBook for Flexitarians, Vegans, & Vegetarian Diners
Meet the needs of the growing number of plant-based food lovers by creating dishes for them. Get inspired with our recipe ebook and adapt those recipes to suit your diners' tastebuds.
Download