A restaurant's kitchen can be a chaotic environment. Between whipping up dishes in minutes, customising orders and ensuring efficient teamwork, there's a lot for one chef to handle.

That's why running a successful kitchen shouldn't be the sole responsibility of the head chef, even though it often is. You need established systems, a strong team and capable people to make sure your restaurant serves up the best meals with the best service to customers – day after day.

Here are some useful tips to point you in the right direction.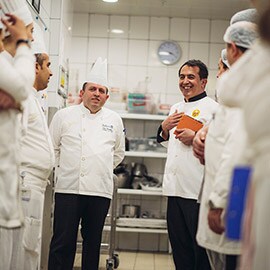 Welcome your team's input
It is crucial to listen to your team and welcome their input. Think of the kitchen as a body and your team as your eyes and ears, and they can spot areas for improvement that you may have missed.

Hear what your team has to say, then implement systems to help everyone work on autopilot – coordinating with each other so you don't have to micro-manage each stage of the process. (After all, how many times do you really want to tell your assistants that their garlic pieces are too thick, or that they should watch the orders more carefully?)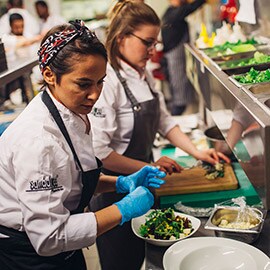 Organise and streamline
It's crucial that you organise and streamline all the processes in your kitchen. Your kitchen should function in a way that enables you to prepare and serve every dish on your menu without hassle or delay.

To start with, consider eliminating dishes that take too much time to prepare – or perhaps, keep them as specials that are served during non-peak hours. In fact, one common issue that many kitchens face is a menu that is too extensive.

Make your menu manageable and train your team to function accordingly. Also make sure you have the right equipment on hand to cover all your needs.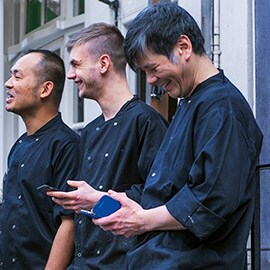 Define best practices
We're going to contradict ourselves a little here, but stay with us. While having set practices and systems is great, it can also stifle creativity. So what can you do?

This is where you need to strike a balance. Firstly, define best practices for your kitchen to reduce the errors. Think about how and where servers and kitchen staff should move during busy periods to avoid bumping into each other and potentially causing accidents. Ask yourself, what happens when the sous chef steps away from the kitchen? After these practices/situations are planned out, outline what you expect from each member of your kitchen team and give them the leeway to be creative and give suggestions.

Once you have this delicate balance right, you'll have a crew that works quickly, effectively and safely at all times – reducing wait times, improving the quality of food and service, and ultimately, keeping your diners happy.
Use technology wisely
Technology can vastly improve the speed and accuracy of service in restaurants. Modern point-of-sale (PoS) systems now provide a platform for house staff to keep in close communication with the kitchen, helping to pass messages, orders and cancellations.

However, if a message is crucial, it's still better for a member of the house staff to walk into the kitchen and inform the chef. In a service-oriented industry, we need to maintain a human touch with diners and team members.

Running a successful kitchen is hard work, but certainly possible. Implement some of these ideas into your own kitchen and let us know if it makes a positive difference in how your restaurant is run.