The restaurant industry is one of the most competitive in the world, and top chefs are always on the lookout to develop a culinary advantage. One way to do so is to frequently update your menu with new and popular items that diners crave.

If you're looking to capitalise on "the next big thing" and get in on a trend while it is still in its early stages, you're at the right place. In this article, we discuss 5 dishes that are quickly gaining popularity throughout the gastronomic world.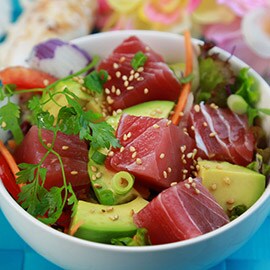 1. Poke
Poke is a traditional Hawaiian dish that is essentially a bowl of diced-up raw fish marinated in soy sauce, seaweed, mango, ginger and sesame oil. While this dish has been around for a while, its popularity was previously confined to its native home of Hawaii. Today, poke is a fast-rising trend in many spots around the world. If you've travelled around the US and Europe, you may have spotted poke shops (also called "pokerias") in various locations, visited by eager customers rushing to get their fill of this treat.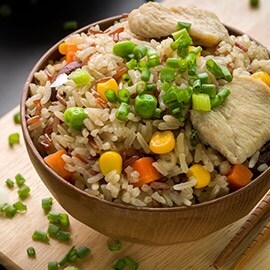 2. Rice bowls
It's important to make the distinction between "bowls of rice" and "rice bowls". One is distinctly boring, while the other is a rising star in menus around Asia and other parts of the world.

It's not the rice – or the bowl – that is making waves. It's the way these rice bowls are served that's a key factor in their popularity. Eateries have reinvented the rice bowl by mixing and matching all sorts of innovative ingredients from various cultures, creating a multitude of unique variations of this once timeless classic.

Some examples of this are rice bowls that combine the exciting taste of Mexican sour cream and chipotle with Asian and European flavours, mixed together into a hearty comfort dish.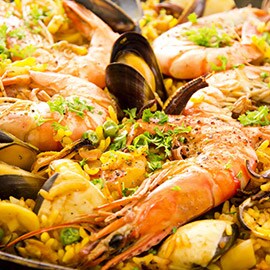 3. Paella
Also referred to as "Spain's most famous dish", paella is representative of all things Spanish – vivid colour, warmth and beautiful tradition. The heart of any paella dish lies in its distinctive paella rice that's full of flavour and has a soft, moist texture.

While originally of Spanish fame, this dish has become so popular, it's now served up in restaurants of other ethnicities. In Singapore, you'll even find this in some Korean restaurants!
4. All-day breakfast
Although not technically a dish, the all-day breakfast is a growing trend among eateries in Singapore. While you may not want to switch up the entire theme of your restaurant to ride on this trend, you could definitely add popular breakfast menu items to cater to audiences who may have a special place in their hearts for pancakes, maple syrup and blueberries.

As foodies ourselves, we absolutely love this trend and hope it never goes away. After all, who doesn't want waffles and ice cream for breakfast, lunch and dinner?
5. Shakshuka
This North African dish is made of poached eggs, stewed bell peppers and tomatoes. While this trend is still in its early stages, we predict that shakshuka's popularity will continue to rise in many parts of the world. Now, you have the opportunity to introduce this popular dish to Singaporeans.

Shakshuka exudes strong, exotic flavours that are instantly enticing. In fact, most diners fall in love with this dish after their very first bite.
Spread the word
Now that you've got a heads up on upcoming trends in and out of Singapore, it's time to make the most of your knowledge by learning how to prepare these dishes and introduce them to your menu.