What is good service?
Good service is about making diners feel welcome and creating positive, memorable interactions with them. This all starts with hiring and training your waitstaff well.
Be polite and attentive when serving. Train your service staff to excel in this area and your diners will remember their dining experiences fondly.
Be timely and precise in meeting the needs of your diners. Ensure your service staff are knowledgeable about the menu and serve food in the correct manner.
Know your diners by understanding their needs and remembering their preferences. Give your loyal customers even more reasons to keep coming back (besides the good food).
Employ the right ratio of staff to diners. Nobody likes to be kept waiting. When you have enough staff, every diner will enjoy the attention they deserve. Keep in mind that more isn't always better though. Too many service staff loitering around the dining area can make guests feel uncomfortable. Find the right balance.
Go the extra mile and deliver the best experience you can provide. Show guests to the washroom or provide recommendations. Personal touches will improve any dining experience.



Types of F&B services
While the key fundamentals discussed above can be implemented across all dining establishments, you'll want to customise the type of service your staff is providing, based on your restaurant's food and style.
Waiter service
This is where a waiter/waitress sits guests down while attending to their service needs – from presenting the menu, taking and serving orders to collecting payment. Due to the more personal nature of interaction, it's important for your guests to feel comfortable and that the service quality of their server is exemplary.
Buffet service
In its simplest form, a buffet service involves guests taking their food from buffet lines, while service staff clear up the dirty dishes on diners' tables.
Station type buffets offer different foods grouped by course, cuisine or a theme at individual tables, while a waiter serves the beverages. Service staff need to keep up with the clearing of plates or have side stands available for guests to place their used plates. A chef-manned station will add even more sizzle to the party.
Modified deluxe buffet tables are set with utensils. Waiters will serve beverages, coffee and dessert while other dishes are placed in the buffet line. In this setting, service staff must ensure glasses are topped up and plates are cleared quickly.
Deluxe buffets have a step up in the service level. Waiters will serve the appetisers, soups, salads, beverages and desserts. Main courses and sides can be found in the buffet line.
Focus on making diners feel welcome as some may feel rushed by the setting and crowd.
Self-service
"Self-service" doesn't mean "no service". Found in casual restaurant and fast food establishments, diners will place, pay for and collect their orders from a counter.

Your challenge here will be meeting the expectations these diners have for speedy service, so you may want to prepare your food beforehand. Anticipate the crowds during peak periods and be sure to have enough staff on hand during these times.
Semi-self service
Here, diners order their food at a counter with service staff bringing the food to their table. The counter staff relays the orders to kitchen and collects payment. It's a smart choice for quick service restaurants that prepare dishes only when ordered.

As with self-service restaurants, these diners expect speedy service, so make your food preparation and delivery processes as efficient as possible.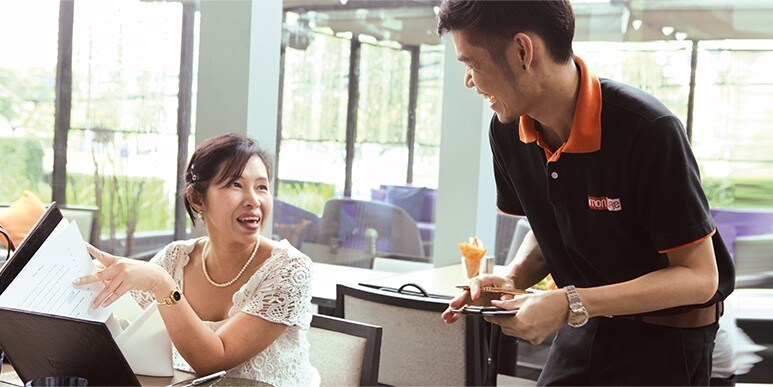 Keep diners coming back
By identifying your preferred style of service and ensuring you do it well, you can retain and build your customer base. Take a step back, gauge your service quality and pinpoint how you can improve it.
Great service can earn you loyal customers who won't only come back for more, but will be excited to tell their friends all about you.