A great meal is more than the flavour of the dish – it is also about plating your dish to make it a work of art. While culinary skills and ingredients are important to give a dish flavour and depth, knowing how to present your food well is equally important. Not only does attractive-looking dishes catch diners' eyes and stimulate their appetite, you can also charge diners more with well-presented meals.
Besides knowing how to plate your food to elevate its visual appeal, you can also complement your plating techniques with sauce plating techniques. Drizzling your dish with right sauce adds a finishing touch and completes its look.
General Sauce Plating Tips
Just like choosing the right sauce to pair with your dishes, you want to ensure your sauce complements the overall look of your dish. 
For beginners, you might want to start with a squeeze bottle to control how much sauce to use. Those feeling more adventurous can use spoons or brushes to create fancier and more elaborate designs.
You can plate your dish with multiple sauces to add flair and colour to your dish. Just make sure the sauces complement your dish and not distract the diner from the focus of the dish.
After you have finished your sauce plating design, wipe down any excess drippings on your plate to avoid distracting diners from your presentation.
Avoid putting any sauces on the rims of the plates. Any sauce designs on the rims will be ruined since cooks, servers, and waiters hold the plate rims when delivering it to the diner.
Before we move on to the specifics of how to plate sauces, take time to familiarise yourself with the popular fine dining sauces, and make sure you know of the recipes to some of these, or how the 5 Mother Sauces can be transformed into these hot favourites.
Popular fine dining sauces
Béchamel
Hollandaise
Parsley
Tomato
Béarnaise
Bread sauce
Chimichurri
BBQ
Horseradish
Espagnole
Velouté
Sweet and Sour
Sauce Plating Techniques & Ideas
The Splatter Technique
What you'll need:
A good amount of your desired sauce
Spoon
Plate (and food to put on top afterwards)
Place a generous amount of sauce at the centre of the plate. Using a spoon, hit the centre of the plate such that the sauce splatters to create a pattern. Make sure to moderate the amount of force used to avoid breaking your plate or creating a mess.
The Swirl Technique
What you'll need:
Squeeze bottle filled with desired sauce
Lazy Susan or cake turntable
Plate (and food to put on top afterwards)
Fill a squeeze bottle with sauce. Start with the center of the plate and gradually move out until you get your desired design. If you have a cake turntable, you can also spin your plate on it while doing the swirl design to make the task easier. 
Pro tip: If you are using a spoon, use some oil to create an outline first so you can be more precise when applying the sauce.
The Sauce Dots Technique
What you'll need:
Squeeze bottle filled with desired sauce
Plate (and food to put on top afterwards)
One of the easiest and most effective sauce plating designs, keep the squeeze bottle nozzle at an angle from the plate, apply pressure till you get your desired dot size. You can experiment with different dot sizes to create better contrast on your plate.
The Zig Zag Technique
What you'll need:
Squeeze bottle filled with desired sauce
Plate (and food to put on top afterwards)
Fill a squeeze bottle with sauce, and squeeze along the plate till you get a zig zag design.
Pro tip: Similar to the swirl design, you can create the outline with some oil first if you are using a spoon to create the design, or if you are doing this for the first time so that the sauce doesn't go out of alignment.
Bonus: Garnish ideas for dinner plates
While sauces may fall under one aspect of garnishing, it's also important to consider other types of garnishes. Beyond visual appeal, garnishes enhance the flavours of the dish, and help to fill the plate. In certain instances, garnish even aids in the identification of the dish!
Other than sauces and syrups, common garnishes include purees, fruits and vegetables, herbs and more.
Here are a few ideas on how you can garnish your dinner plates:
Rice and vegetable garnish for your fish
While fish is nutritious and a favourite for light eaters, serving only the fish without any garnish or side dish would make it seem unappetising.
Hence, it's recommended to garnish your fish with vegetables and sauces, as well as to include side dishes such as rice or mashed potatoes. This will ensure that you serve your diners a balanced and visually appealing meal.
Vegetable and sauce garnish for your ribs
You've made your pork or beef ribs juicy and delicious — all that's left it to make the dish look as good as it tastes.
Sautéed vegetable and a sauce of your choice are great for garnishing. All you have to do is spread the sauce artfully on the platter, and arrange the vegetables and ribs neatly on top of it.
As seen from these examples, sauces are a staple garnish for many dishes, and once you learn how to plate sauces, the possibilities are endless for visually appealing food.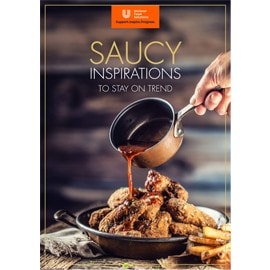 Saucy Inspirations to Stay on Trend
Need ideas for creating delicious, aromatic sauces that people will gladly pay for? We've created a recipe book on amazing sauces, just for you.
Free Download