An Introduction
Learn how to cook up a spicy fiesta in your kitchen with Chef Pablo Penalosa Najera at Mayfair's prestigious MNKY HSE. He'll reveal his top tips for assembling two mouth-watering tacos guaranteed to inject some Latin flavour into any dinner party.
Setting Up Your Kitchen
Chef Pablo Penalosa draws back the curtains to take you on an inside guide unveiling his kitchen essentials. From basic pans to more complex equipment such as the smokers and sous vide, learn the equipment for perfecting Latin cuisine.
Prepping the Brisket with Rub
Take flavour to another level as Chef Pablo Penalosa explains the spices involved in preparing an aromatic rub for your brisket. Be guided through the process before being introduced to the smoker for a taste of smoked meat indulgence.
Prepping the Chicken with Rub
Switch it up with the sweet chicken rub as Chef Pablo Penalosa shows you how to elevate your brisket base to sugary sweet with the addition of a few extra ingredients. Experiment with texture by creating a crisp deep-fried chicken skin; while learning to sous vide and vacuum pack to deliver restaurant-quality results.
Chiles Toreados Base for the Guacamole
Calling all spice lovers, upgrade the Mexican classic guacamole to Chef Pablo Penalosa's: chiles toreados. This video will show you how to make the base for this spicy twist guaranteed to inject some Latin heat!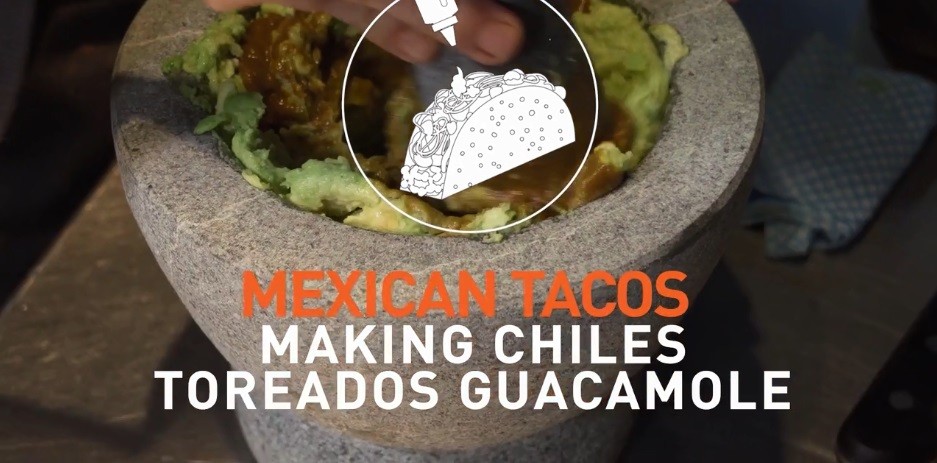 Making Chiles Toreados Guacamole
Finalise the fiery components for this chiles toreados guacamole by combining buttery avocado with a spicy jalapeno base.
Chipotle Chiles Toreados Guacamole
Learn a second guacamole recipe - chipotle chiles toreados. This guacamole infusion combines the flavours of smoky chilli with an aboro sauce for a dash of acidity.
Prepping the Chicken for the Tacos
Learn how to combine your chipotle toreados, deep fried skin and sous vide chicken to create a refined take on chicken tacos.
Assembling & Plating Chicken Chipotle Tacos
Be guided through the final components and techniques to assemble the perfect plate-up.
Mexican Brisket Tacos with Toreados Guacamole
Finalize your Mexican brisket tacos by uniting the flavours of the toreados guacamole with tomato brunoise and finely-sliced onions. Understand how to shred a beef brisket and combine it with the juices from the meat for the ultimate punch of flavour.