An Introduction
Dan Sherlock of Spanish tapas restaurant, Ember Yard in London, will introduce you to the need-to-know techniques, ingredients and equipment that'll get you creating perfect tapas, with a focus on grilling and smoking.
Setting up Your Kitchen
Take a walk around Ember Yard's restaurant kitchen, as Chef Dan Sherlock talks you through the need-to-have equipment for creating Spanish tapas, from the josper oven to the robata grill, and the benefits of cooking over wood and charcoal.
Using Seasonal Ingredients
Learn about the importance of seasonality and using quality ingredients when making tapas, with a focus on Iberico pork presa -  a prized cut that is bred specifically with the seasons in mind.
Chargrilled Octopus: Part 1
Watch how to prepare octopus – a classic Spanish tapas – by slow-cooking it sous-vide and preparing a chilli, garlic and caper dressing to go with it.
Chargrilled Octopus: Part 2
Learn how to chargrill slow-cooked, tender octopus to perfection, teaming it with baby potatoes, chilli, and garlic with a caper dressing and saffron aioli for a perfect marriage of flavours and textures.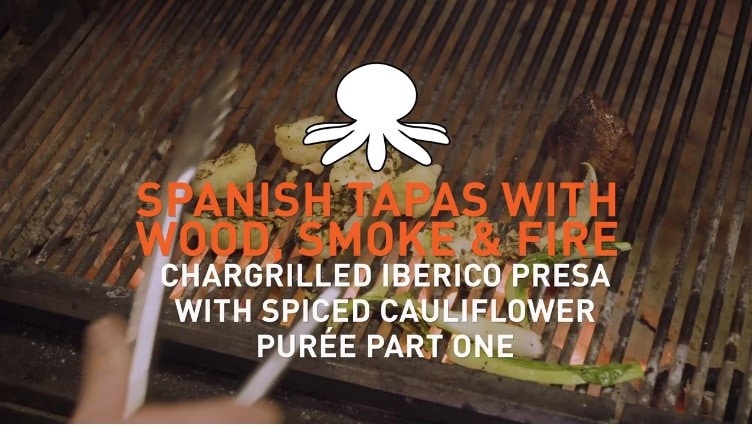 Chargrilled Iberico Presa: Part 1
Learn how to transform the humble cauliflower into different textures - from spiced puree to chargrilled crunch - to serve as a garnish with Iberico pork presa.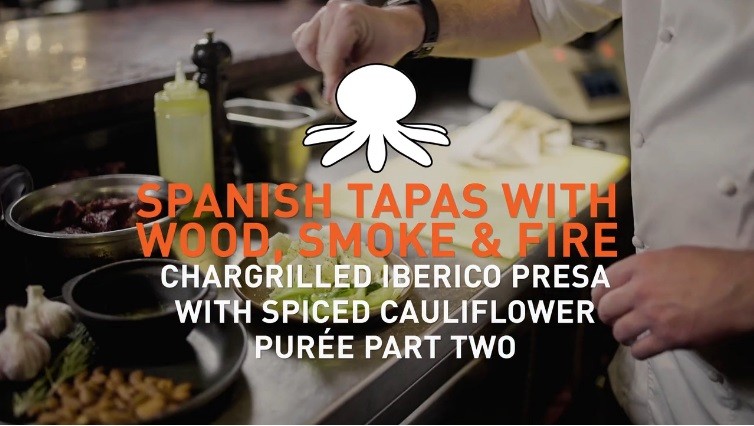 Chargrilled Iberico Presa: Part 2
Watch how to perfectly cook Iberico pork presa on the robata grill, before plating up with spiced cauliflower puree and chargrilled cauliflower florets.