CARTE DOR Mango Flavoured Pudding Mix 500g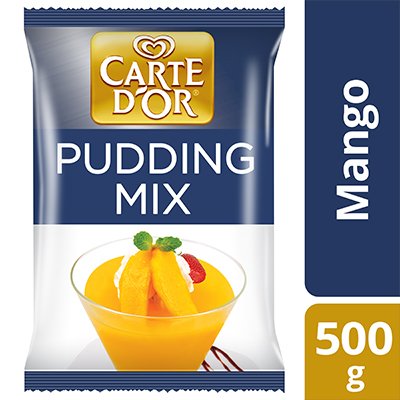 CARTE DOR Mango Flavoured Pudding Mix 500g
The luscious flavour of ripened mangoes are brought out in CARTE D'OR Mango Flavoured Pudding Mix that can be used as a base to recreate your signature desserts easily.
Article code:

67066414

•

CU EAN:

8888086582793

•

DU EAN:

18888086582790
All product information
Nutrition and allergens
Halal - Malaysia
Ingredients and Allergen Information
Sugar, Skimmed Milk Powder, Egg Yok, Contains Permitted Stabiliser, Flavouring, Colourings (including E102)

All food additives are of plant and synthetic origin. May contain traces of cereals containing gluten, soy and milk.
Nutrition Information
Typical values
Per 100 g/ml
ENERGY
1,622.00
ENERGY
387.67
CARBOHYDRATE
76.90
SODIUM
224.00
PROTEIN
14.20
FIBRE
1.30
TOTAL FATS
3.20
SATURATED FATS
1.20
FAMS
1.30
FAPU
0.50
FATRN
0.10
SUGAR
75.30