5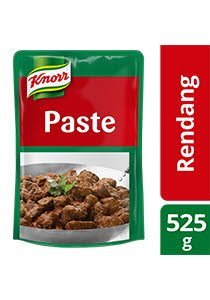 All product information
Nutrition and allergens
Halal - Indonesia

Endorsed by Health Promotion Board as a healthier choice with lower sodium
Ingredients and Allergen Information
Palm Oil, Salt, Chili Paste, Flavour Enhancer (E621, E635), Garlic Powder, Cardamom Powder, Star Anise Powder, Coriander Powder, Fenugreek Powder, Cumin Powder, Cinnamon Powder, Caramel, Acetic Acid, Clove Powder, Lecithin (Contains Soy), Edible Gum, Modified Starch, Citric Acid and Preservatives (E202, E211).

All food additives used are from plant and synthetic origin. May contain traces of cereal contain gluten, egg, milk, crustacean, fish, mustard and peanut.
Additional Information
Halal - Indonesia
Endorsed by Health Promotion Board as a healthier choice with lower sodium
Key product information
Description
Specially formulated for food service operators, KNORR Rendang Paste is made with a blend of good quality curly red chilli, cumin, clove, coriander, cinnamon, cardamon, star anise, fenugreek into a paste format for easy application & versatility..
Packaging
Per carton (6 x 525 g)
Container
Per piece (Pouch)
Usage information
Preparation
1 kg of Beef for servings of 15: 1. Heat 20ml oil in wok, add 75g of KNORR Rendang Paste and 100g of chilli paste. Stir-fry until fragrant. 2. Add 1kg beef meat, turmeric leaf, 1L water & 8g KNORR Chicken Seasoning Powder. Stir well. 3. Bring to boil, then simmer for 1 hour. 4. Add 1L thick coconut milk, then simmer again for 1.5 hours. Stir occa ssionally until ready to serve.
Storage
Store in a cool and dry place. Use clean spoon and close pack tightly after opening.