Asian-Style Baked Chicken with Mashed Potatoes and Garden Salad
Looking for a new way to cook chicken? Try this baked chicken recipe with the right zing to spice things up. It's a taste so good that your diners will be saying, "Winner, Winner, Chicken Dinner!"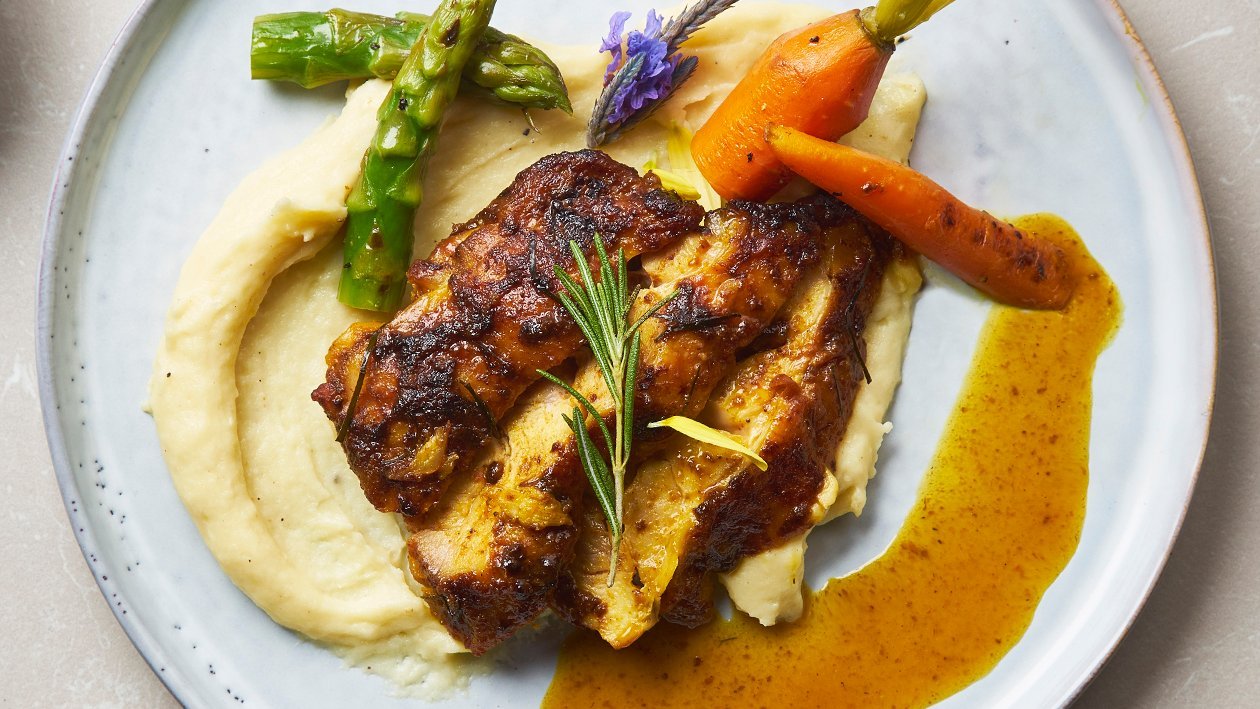 Ingredients
Asian-Style Baked Chicken with Mashed Potatoes and Garden Salad
Baked Chicken Preparation
Knorr South East Asian Spice Paste 600g
/g
250.0 g
0%
Coconut Milk
/ml
125.0 ml
0%
Knorr Chicken Seasoning Powder 1kg
/g
25.0 g
0%
Kaffir Lime Leaf
/pc
8.0 pc
0%
Sambal Chilli Paste
/g
75.0 g
0%
Chicken Leg, boneless
/kg
1.2 kg
0%
Mashed Potato Preparation
Knorr Potato Flakes 2kg
/g
750.0 g
0%
Nutmeg Powder
/g
13.0 g
0%
Sauteed Vegetable Preparation
Baby Carrot
/pc
10.0 pc
0%
Salt, to taste
/g
0.0 g
0%
Some Pepper, to taste
/g
0.0 g
0%
Baked Chicken Preparation
Knorr South East Asian Spice Paste 600g

250.0 g

Sambal Chilli Paste

75.0 g

Chicken Leg, boneless

1.2 kg
Mashed Potato Preparation
Sauteed Vegetable Preparation
Preparation
Baked Chicken Preparation

In a mixing bowl, mix spice paste, coconut milk, chicken seasoning powder, lime leaves, sambal chilli, ghee and chicken legs. Mix well and marinate overnight.
Preheat the oven to 160°C, and cook the chicken for 25 minutes.

Mashed Potato Preparation

Boil water and milk in a pot, and add in the potato flakes, butter, and nutmeg powder. Stir over low heat, and set aside once it has cooked.

Sauteed Vegetable Preparation

In a separate pot, heat water to lightly blanch the carrots and asparagus for 1 minute. Remove and saute with oil. Season to taste.

Plating

Plate the mashed potato and vegetables, with the chicken resting on the mashed potato. Drizzle the chicken with chicken juice.