Free Range Chicken with Cheddar Mornay Sauce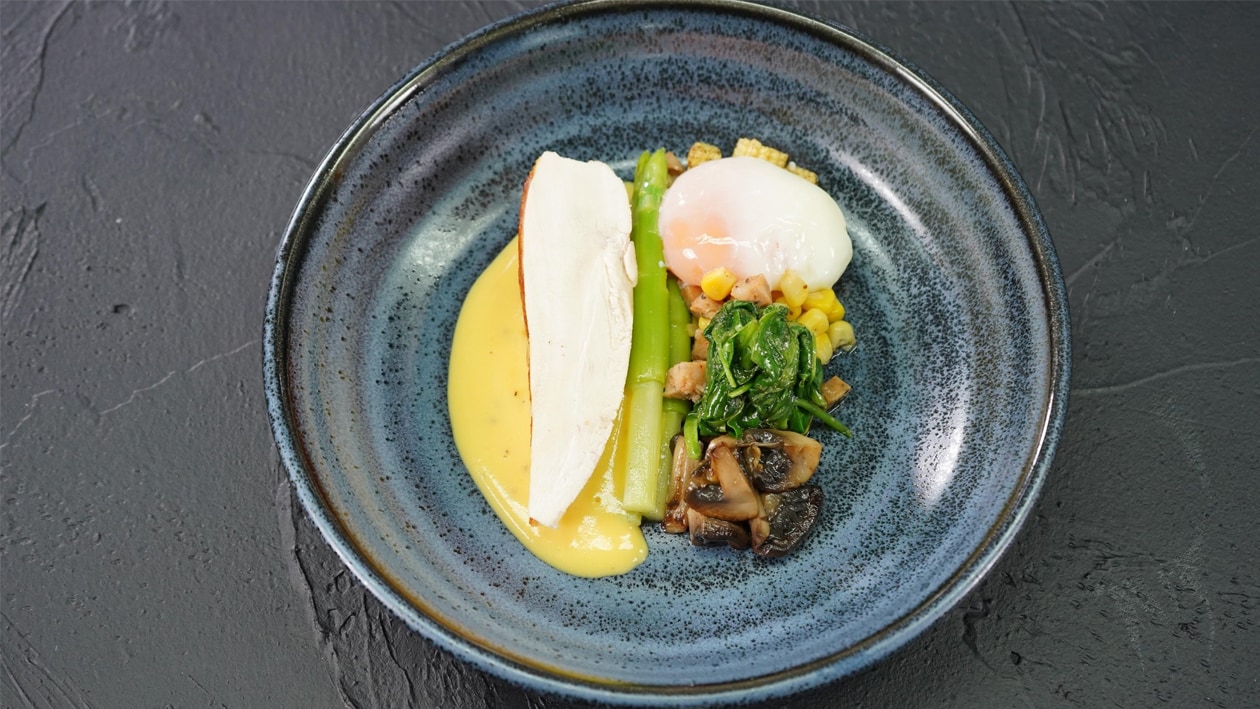 Ingredients
Free Range Chicken with Cheddar Mornay Sauce
Cheddar Mornay Sauce
Knorr Instant Cheese Powder Mix 205g
/g
60.0 g
0%
American Mustard
/g
15.0 g
0%
Gruyere Cheese
/g
30.0 g
0%
Free Range Chicken
Chicken Breast
/g
600.0 g
0%
Knorr Chicken Seasoning Powder 1kg
/g
30.0 g
0%
Condiments
Baby Spinach, washed and cleaned
/g
150.0 g
0%
Asparagus, peeled
/pc
10.0 pc
0%
Button Mushrooms, quartered
/g
100.0 g
0%
Corn Kernels, drained
/g
100.0 g
0%
Chorizo, diced
/g
50.0 g
0%
Cheddar Mornay Sauce
Free Range Chicken
Condiments
Baby Spinach, washed and cleaned

150.0 g

Asparagus, peeled

10.0 pc

Button Mushrooms, quartered

100.0 g

Corn Kernels, drained

100.0 g
Preparation
Cheddar Mornay Sauce

In a pot, bring water to boil.
Whisk in Knorr Instant Cheese Sauce Mix. Bring to boil.
Season with mustard and black pepper. 
Fold in cream and grated gruyere cheese.

Free Range Chicken

In a mixing bowl, mix water, Knorr Chicken Seasoning Powder, salt, sugar well and brine chicken breast for at lease 2hrs
Sear the chicken skin side down with medium heat till crispy before flipping it.
Pan roast the chicken till cooked.

Condiments

Cook egg at 62 degree for 1hr in the thermal circulator.
In a pan, sauté corn and chorizo. Season to taste.
Blanch asparagus till cooked.
In a pan sauté spinach, mushrooms, asparagus separately and season with salt and pepper.
Crack open slow cooked egg and set aside.
Ready to plate.