Mustard and Herb Crusted Rack of Lamb with Roasted Vegetables
The rack of lamb is first pan-seared to seal the meat's juiciness and keep it tender. A crust of herbs, mustard, and breadcrumbs is coated around the seared rack of lamb and then roasted to infuse the meat with even more flavour. Finish the roast rack of lamb by topping it with a rich sauce made from white wine, mustard, and tarragon. Complete the dish by pairing it pairing with roasted vegetables and olives. Made easier to cook with Knorr's range of products, this herb and mustard crusted rack of lamb will wow your guests during Christmas and other holidays.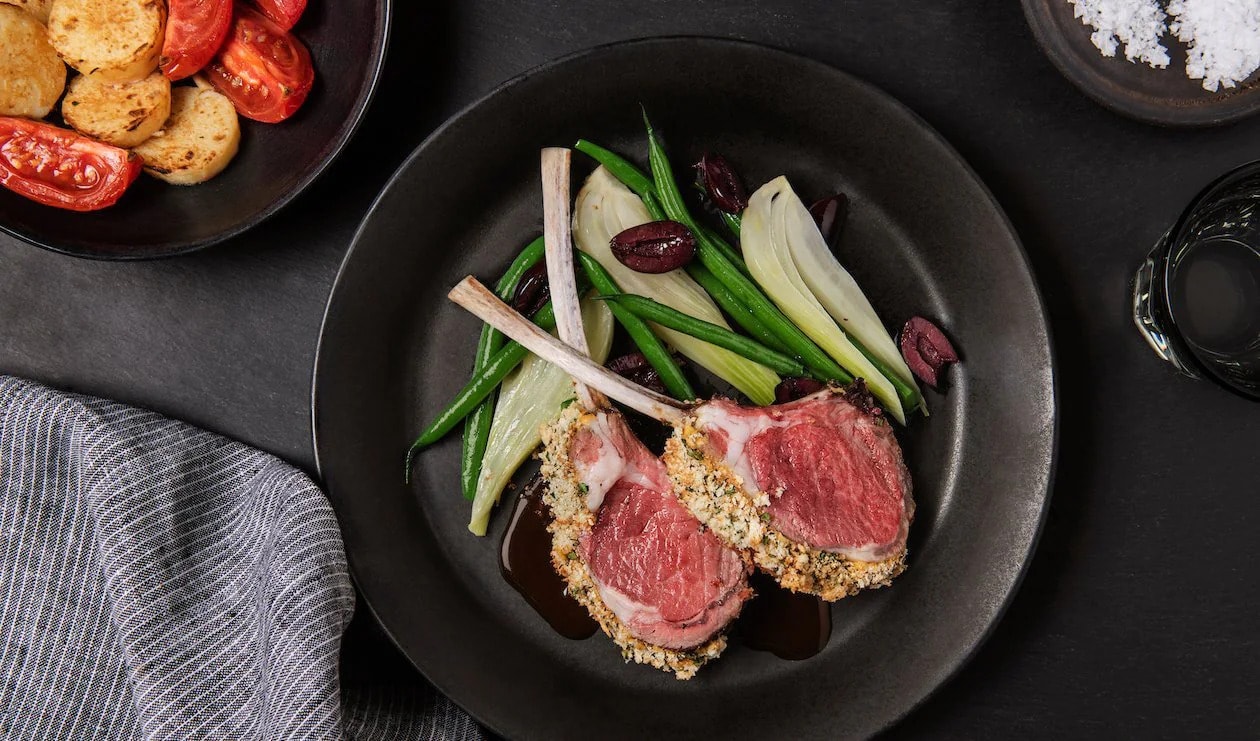 Ingredients
Rack Of Lamb
Extra Virgin Olive Oil

60.0 ml

White Pepper Powder

3.0 g

Garlic Clove, skin on, bruised

2.0 pc
Herb Crust
Panko Bread Crumbs

150.0 g
Preparing the Tarragon Mustard Lamb Jus
Whole Grain Mustard

10.0 g
Vegetables
Haricot Vert, sliced, blanched

200.0 g
Roasted Potato
Garlic Clove, skin on, bruised

1.0 pc

New potato, halved and cooked

300.0 g
Preparation
Rack Of Lamb

Preheat the oven to 180°C
Heat 45 ml extra virgin olive oil in a large, heavy-duty skillet and sear the lamb, turning occasionally till the exterior is browned. Season with salt and pepper.
Add butter, garlic, rosemary and baste onto lamb.
Set aside.

Herb Crust

Preheat the oven to 180°C

Pulse the breadcrumbs, parsley, tarragon, and a pinch of salt in a food processor until the mixture just turns green. Make sure not to over process. Set aside after finishing. 
Brush a layer of mustard onto the lamb and evenly coat it with herb crumbs.
Bake at 180°C for about 6 to 8 minutes, or until breadcrumbs are crrusty and the lamb rack reaches desired doneness.
(rare - 50°C, medium rare - 52°C, medium - 57°C, medium well 63°C, well-done 68°C).
Let it sit for 5 to 8 minutes and slice into preferred thickness.



Preparing the Tarragon Mustard Lamb Jus

Reduce white wine to the skillet used to sear the lamb to deglaze it. Bring the mixture to a boil over high heat, scraping any brown bits from bottom of skillet.
In a mixing bowl, mix Knorr Demi Glace Sauce and water together and pour the it into the pot. Bring to boil and let it simmer for 5 mins.
Fold in the mustard and chopped tarragon. Ready to serve


Vegetables

Heat 15 ml extra virgin olive oil in skillet and cook green beans and fennel, covered, over medium heat, until tender.
Stir in olives, basil, salt and pepper to taste. Keep warm.  

Roasted Potato

Bring milk, cream, garlic head, thyme and rosemary to a boil in a medium saucepan. Let it sit for 1 hour covered.
Cover potatoes with salted water in medium saucepan. Bring to a boil over high heat. Reduce heat and simmer until just tender but firm for about 5 minutes.
Let cool in water for about 15 minutes.
Strain cream mixture through strainer lined with cheesecloth and season the mixture with salt and pepper.
Drain potatoes, then arrange in single layer on a sheet pan. Drizzle with strained cream mixture.
Heat potatoes and cream mixture in an oven at 180°C for 15 minutes, then broil until golden.