Roast Lamb with Vegetables and Rosemery Jus
This roast lamb recipe packs an incredibly bold flavour while remaining tender and juicy. The garlicky olive relish on the side also helps add an additional punch to its flavour. The roast lamb is also easy to prepare, making it the ideal main dish to serve to customers during the festive season. With Knorr Demi Glace, you can shorten your cooking time to increase efficiency. Try switching up the herbs in your marinade to explore different flavours and give your roast lamb with vegetables a variety of taste!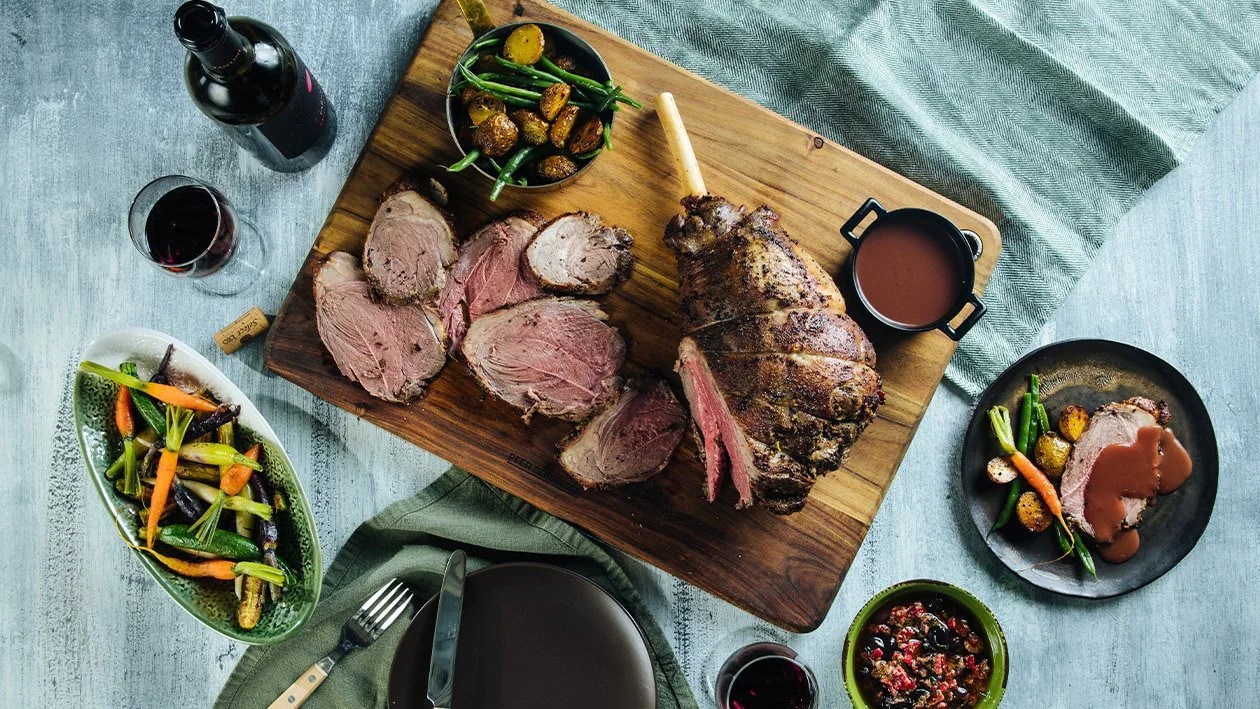 Ingredients
Lamb Roast and Marinade
Leg of Lamb (bone-in)

1.5 kg

Whole Grain Mustard

40.0 g
Roasted Vegetables
Baby Carrots, washed and boiled

200.0 g

New potato, halved and cooked

200.0 g

Pearl Onion, peeled

200.0 g

White Pepper Powder

2.0 g
Rosemary and Olive Jus
Black Olives, chopped

20.0 g

Cherry Tomato, halved

40.0 g
Olive Relish
Taggiasche Olives

100.0 ml

Bell Peppers-Deseeded, Sliced & Roasted

150.0 g

Italian Flat Leaf Parsley, finely chopped

10.0 g

Extra Virgin Olive Oil

60.0 ml
Preparation
Lamb Roast and Marinade

In a small mixing bowl, combine the fresh chopped herbs with the peppercorns, whole grain mustard and olive oil.
Pour the marinade over the lamb. Let it sit for at least 30 minutes to an hour.

Roasting the Lamb Leg


Pre-heat oven to 200 °C

Place the lamb on a rack over a baking pan or tray.
Roast the lamb for 30 minutes in the oven until it has browned    

Bring the temperature down to 160 degrees Celsius and continue to roast for 3 hours.

Cook to desired doneness (rare - 50°C, medium rare - 52°C, medium - 57°C, medium well 63°C, well-done 68°C). remove from the oven, lightly cover with foil and let the roast lamb rest for 10 to 15 minutes. 

Roasted Vegetables

In a pan, melt and brown butter.
Add in vegetables and Sautee well.
Add in seasonings, thyme and bake it in the oven at 190°C for 5 mins.

Rosemary and Olive Jus

In a pot, sweat shallots with olive oil till soft.
Add in tomato, olives, rosemary and stir fry till fragrant. 
Deglaze with red wine and reduce for 3 mins.
In a mixing bowl, mix well lamb stock and Knorr Demi Glace Sauce Mix. Pour mixture onto pot.
Bring to boil and let it simmer for 10 mins.
Strain and set sauce aside.

Olive Relish

Slice olives, bell peppers and crush black garlic.
In a mixing bowl mix well all ingredients.
Slowly fold in extra virgin olive oil.