Salted Egg Lobster Thermidor
Usually time-consuming to create, this recipe is surprisingly effortless for the stunning results. Any occasion is perfect to enjoy this heady mixture of lobster meat, creamy salted egg sauce and cheese, all stuffed in lobster shells and baked to perfection.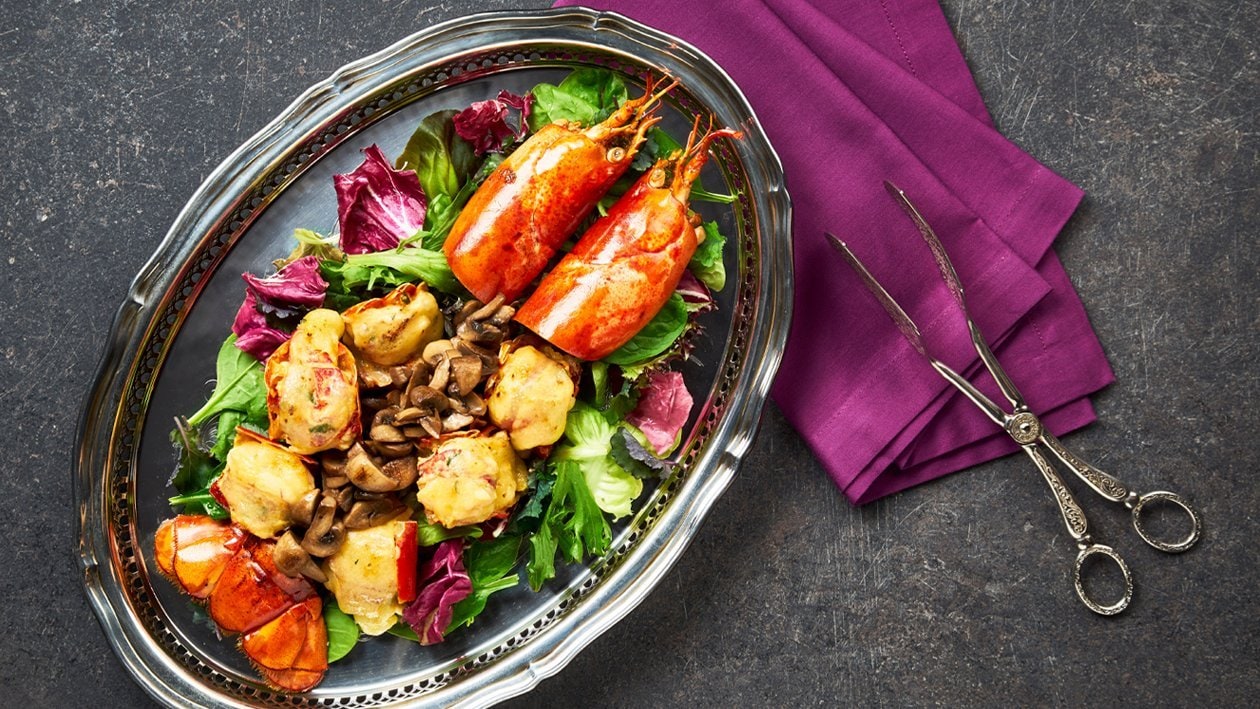 Ingredients
Lobster
Salted Egg Thermidor
Curry Leaves, plucked and cleaned

10.0 g
Assemble
Mozzarella Cheese

200.0 g
Before Serving
Baby Spinach, washed and cleaned

150.0 g

Button Mushrooms, quartered

150.0 g

Curry Leaves, fried

10.0 g
Preparation
Lobster

In a pot of boiling water, blanch the lobster for 1 min 30 sec and shock it in in a ice bath.
Remove the lobster head, using a scissor to cut the inner shell to remove the lobster loin. Reserve lobster Shell.
Remove the crawl meat from the shell and cut them into medallion.
Deep fry the lobster shell at 200 degree Celsius till the shells are dry.
Set aside.

Salted Egg Thermidor

In a pot, melt margarine, stir fried curry leaf till fragrant.
Using low heat add in knorr golden salted egg powder and cook the salted egg powder till foamy, fold in grade d'or hollandaise sauce, milk and bring to boil.
Fold in sugar, Knorr Chicken Seasoning Powder and cheese.
Let it simmer for 2 mins.
Set aside.

Assemble

Preheat oven to 180 degree Celsius.
In a hot pan, sauté lobster meat for 1 min, add in the thermidor sauce and let it simmer for 2 mins.
Place lobster medallion back to the shell and toppled it with cheese.
Let it bake in the oven for 5mins.

Before Serving

In the pan, sautéed the mushrooms and wittered the spinach.
Add in seasoning.
Plate the spinach and mushrooms on the serving tray.
Garnish the lobster with fried curry leafs and julienne chilli.
Ready to Serve.