Salted Egg Yolk Seafood Pizza
Bite into the salted egg-infused crust and generous toppings of delicacies from the sea, fused with rich melted cheese that will have your guests asking for more!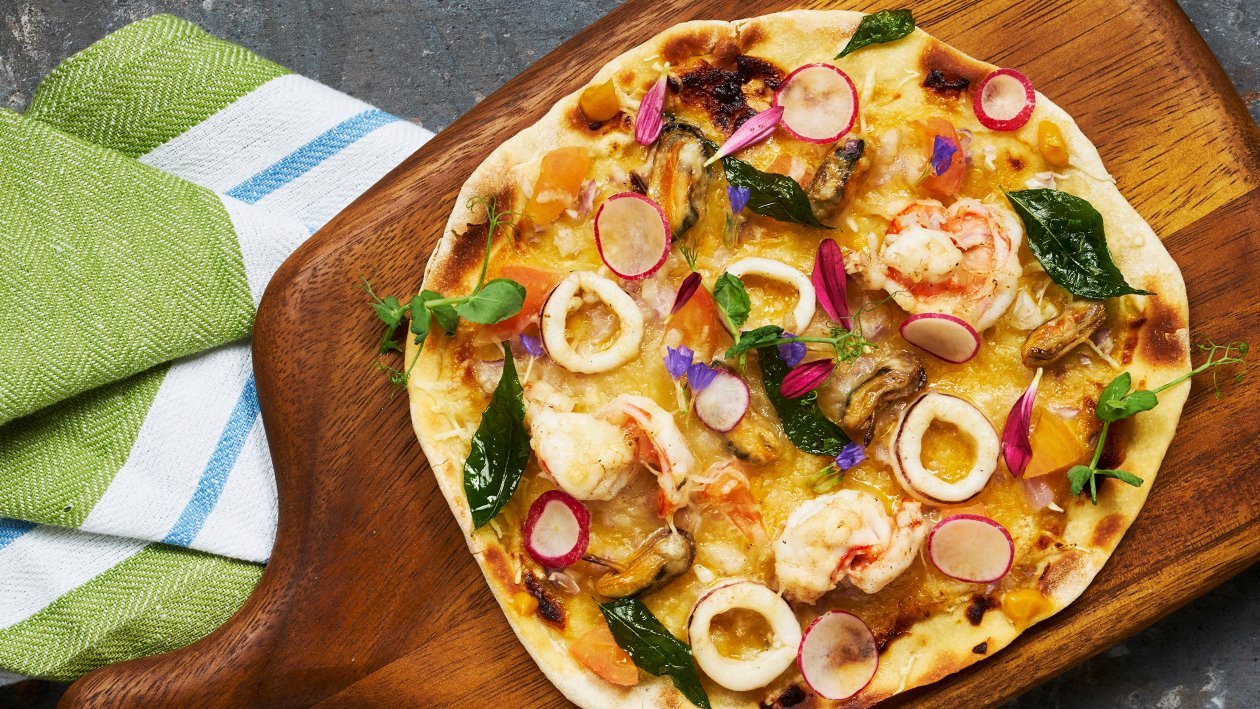 Ingredients
Pizza Dough
Seafood Mix
Shelled Prawns, deveined

10.0 pc

Mussels, deshelled

100.0 g
Salted Egg Yolk Sauce
Mozzarella Cheese

400.0 g
Garnish
Red Radish, sliced

60.0 g

Curry Leaves, deep fried

20.0 g
Preparation
Pizza Dough

Mix flour and salt together.
Slowly add in water and mix well into a dough.
Let it rest for 30mins and roll out into desired shape and thickness.

Seafood Mix

Diced prawns, slice squid tubes, diced mussels into desired size.
Heat oil and add in garlic and fry till fragrant.
Add in prepared seafood and seasoning.
When seafood about to be done add in hua tiao wine to finish it.

Salted Egg Yolk Sauce

Melt planta in pan.
Add in sugar and chicken powder and allow to dissolve.
Slowly add in evaporated milk and heat till it bubbles.
Add in salted egg yolk powder, lower heat and stir till it turns golden brown.
Put mozzarella cheese aside for baking later.

Garnish

Deep fried curry leaves till crispy.
Sliced red radish thinly.

Assemble

Lay thin layer of sauce over the opened dough.
Spread seafood evenly and cover with mozzarella cheese.
Baked in preheated oven at 180 degrees for 7 mins (when cheese melted and golden brown).
Drizzle remaining sauce and garnish with curry leaves and sliced red radish.