Slow-Cooked Halibut and Lobster Mousse and Thai-Style Roasted Australian Fillet Mignon with Tom Yam Emulsion
East meets west, and land meets sea in one delectable creation. Enjoy the best of both worlds in one bite with this Thai-infused medley of halibut, lobster mousse and roasted Australian filet mignon.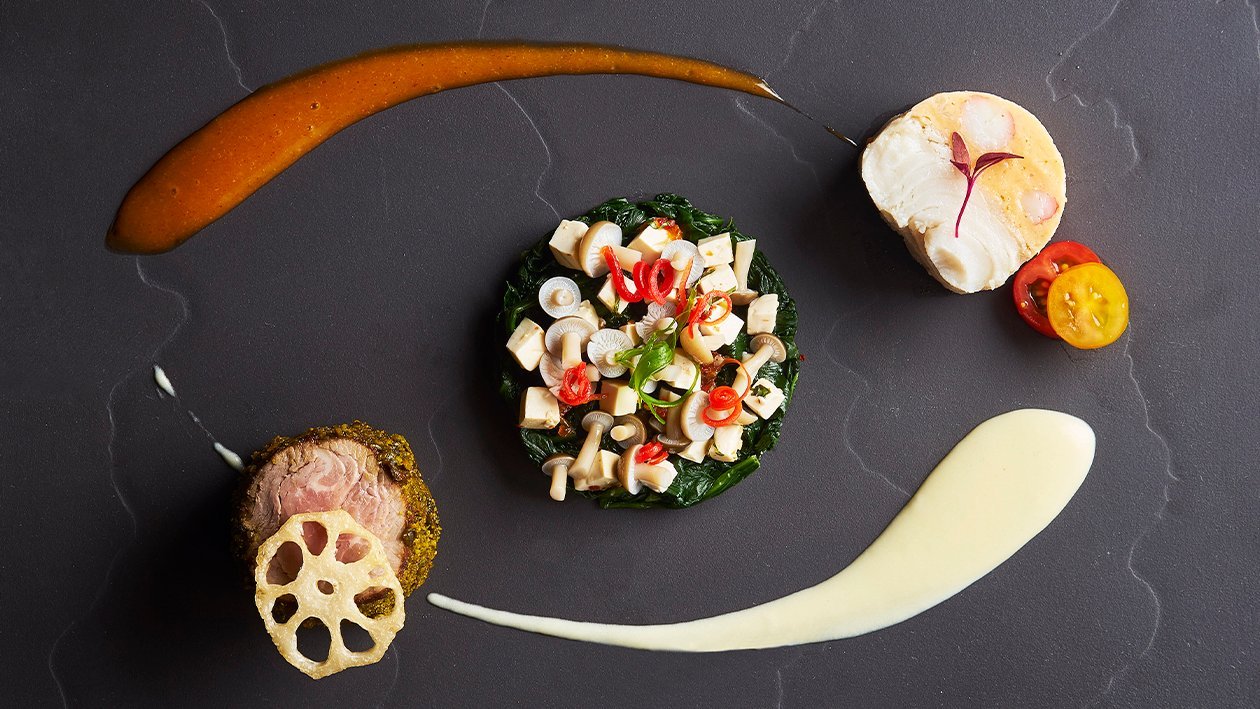 Ingredients
Fillet Mignon Preparation
Beef Tenderloin, trimmed to 6cm round

7.0 kg

Pistachio, chopped

100.0 g
Mouselline Potato Preparation
Lemongrass and Ginger Juice

600.0 ml

Lemongrass, small cut

4.0 pc

Fresh Young Ginger

10.0 g
Tom Yum Emulsion Preparation
Thai Style Wok Fry Vegetables Preparation
Pressed Tofu, diced

300.0 g

Red Chilli, minced

20.0 g

Sweet Basil, chopped

5.0 g
Halibut & Lobster Mousse Preparation
Lobster Meat (tail portion)

300.0 g

Fresh Celery, chopped

10.0 g

Some Lobster Claws and Leg Meat, as needed
Preparation
Fillet Mignon Preparation

Marinate tenderloin by gently rubbing it with 160g of Knorr Tom Yam Paste and olive oil. Use a kitchen twine to make it round, nice and tight, then chill to marinate for 2 hours.

Mouselline Potato Preparation

Boil all the ingredients for lemongrass and ginger juice in a pot till it has been reduced by half. Strain, and return the stock to the pot. Whisk in Knorr Potato Flakes swiftly.
Meanwhile in a separate pot, simmer cooking crème and margarine together. Once ready, add it to the lemongrass and ginger juice with mashed potato mix, and whisk till smooth. Season with salt and pepper to taste.
Pass through a wire mash for a silky texture. Check taste and set aside.

Tom Yum Emulsion Preparation

Boil cashew nuts till soft, remove, and process in a food processor with half of the boiling water till soft. Pass the processed cashew through a sieve. Set aside.
In a small pot, boil water and Knorr Tom Yam Paste. Let the soup reduce to about a quarter.
Using an immersion hand blender, slowly add the cashew paste into the tom yum soup pot and blend till emulsified. Set aside.

Thai Style Wok Fry Vegetables Preparation

Boil water with some salt and blanch the tofu and enoki mushrooms. Set aside.
Heat up a little oil in a wok to stir-fry garlic and chilli. Toss in the tofu and enoki, and add in Knorr Rock Sugar Honey Sauce, fish sauce and chopped basil leaves. Stir carefully and evenly. Check taste and set aside.
Blanch water spinach till cooked, and press out excess water from the greens. Stir-fry the spinach with garlic, chili, Knorr Rock Sugar Honey Sauce and fish sauce.

Halibut & Lobster Mousse Preparation

Use a food processor, add the first 5 ingredients and process at slow speed for 3 minutes before slowly increasing the speed. Add in cooking crème and let it run for another 10 minutes.
Pour in egg white, salt, and pepper, and continue to blend for another 8 minutes till smooth. Place the mousse into a piping bag. Set aside.
Spread cling film, and place the fish fillet on it. Pipe about 150g of mousse on the fillet. Arrange the claw and leg meat on the mousse and spread the mousse with small spatula to form a half-moon shape.
Once nicely shaped, slowly and gently roll over 4 times to round it to a roulard. Tie both ends gently, yet tightly. Transfer the fish into a half moon terrine mould (halibut down) and slow steam at 70ºC for 13 minutes.
Remove beef from the chiller. Once ready, heat olive oil in a cast iron pan, and sear the beef all round. With a brush, rub the remaining Knorr Tom Yam Paste, with some of the olive oil, all over the meat again.
Spread pistachios on a baking paper, and roll to coat the beef, ensure that all areas are covered with the nuts. Bake in a preheated oven at 130°C for 6 minutes, or according to the diners' preferred doneness.

To Serve

Portion accordingly, and assemble according to desired plating.