Wheatgrass Tofu with Royale Chives, Beansprout & Shimeji Mushroom
Wheatgrass tofu is gaining popularity in Chinese restaurants, as health-conscious diners appreciate the benefits of this green. In this recipe, wheatgrass tofu is served dry, with royale chives and shimeiji mushrooms adding complementary flavours.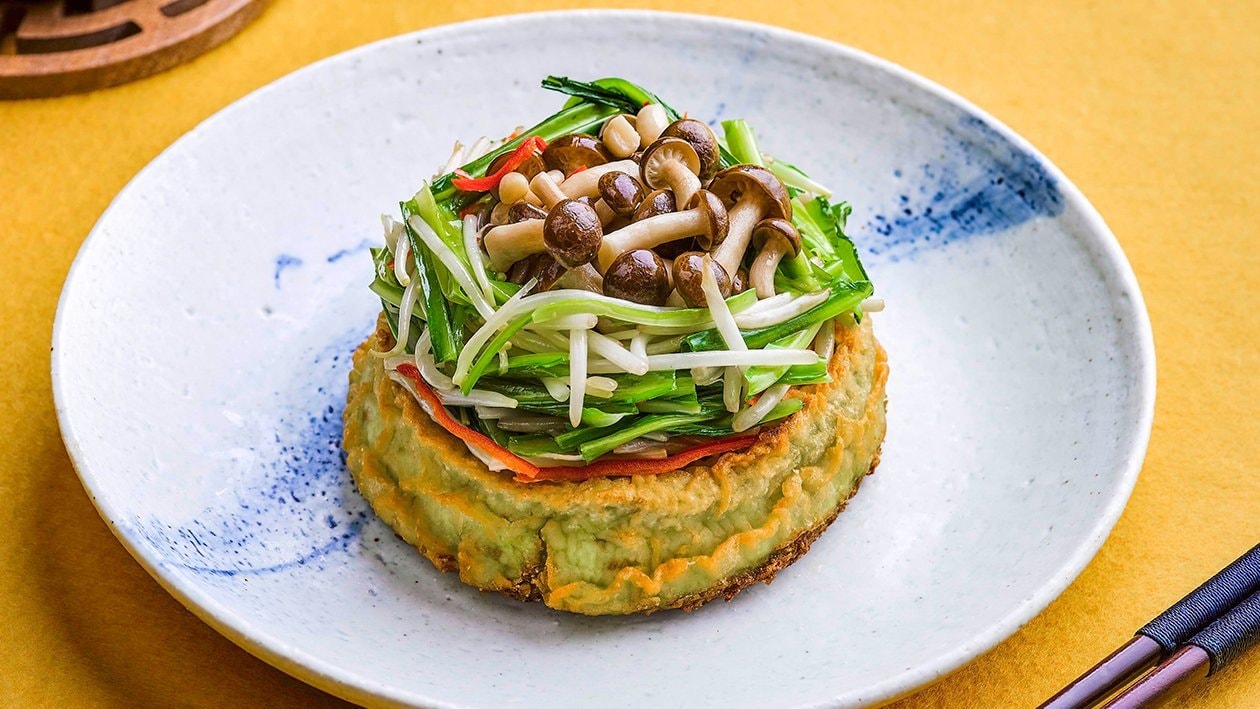 Ingredients
Wheatgrass Mixture
Wheatgrass, wash & pat dry

120.0 g
Wheatgrass Tofu
Wheatgrass, cut 3cm length

100.0 g

Unsweetened Soya Bean Milk

250.0 g
Tofu with Flour Mixture
Self-Raising Flour

15.0 g
Corn Flour Mixture
Stir-Fried Vegetables
Young Ginger, sliced

20.0 g

Red Chilli, sliced

10.0 g

Royale Chives, blanched

200.0 g

Beansprout, blanched

150.0 g

Shimeji Mushroom, blanched

50.0 g
Preparation
Wheatgrass Mixture

Using a blender, blend wheatgrass and water until fine mixture.

Wheatgrass Tofu

Pre-heat steamer to 100°C.
In a mixing bowl, combine egg, wheatgrass mixture, soya bean milk and Knorr Vegetable Seasoning. Mix well.
Strain mixture into another mixing bowl, add in cut wheatgrass and mix well
Lay a piece of food grade plastic in a square insert and pour in wheatgrass soya liquid. Steam for 15 minute.
Let it cool down before portioning.
Set aside for later use.

Tofu with Flour Mixture

In a wok heat up oil to 200°C.
In a mixing bowl, mix all the ingredients together.
Coat wheatgrass tofu with flour mixture and deep fry till golden brown.

Corn Flour Mixture

Mix ingredients together and set aside.

Stir-Fried Vegetables

In a wok, stir fry garlic, ginger and chili till fragrant.
Add in vegetables and stir fried under high heat.
Add in seasoning, water and toss well.
Fold in corn starch mixture to thicken it.