Breaking fast at the buffet spread allows Muslim diners to try cuisines from around the world in a communal setting, alongside favourite local and traditional dishes.
For the holy month of Ramadhan, observant Muslims fast between sunrise and sunset, and break fast with a meal called iftar, or buka puasa in Indonesia, Malaysia and Brunei ASEAN's majority-Muslim countries.


Buffets have long been popular with Muslim diners as they break fast among family and friends, and they are becoming increasingly common in hotels. They allow diners to eat what they want and prepare for the next day's fast.

In Middle Eastern and North African Muslim countries, iftar usually includes a rice dish such as briyani, mansaf (lamb in yoghurt) or kabsa (spiced rice with meat and vegetables), and is rounded off with a dessert, often kunafa (sweet cheese pastry), luqaimat (crisp dumplings) and qatayef (nut-filled sweet pastry). It has spread from being a small community or family meal to becoming something much bigger, and some corporations make it a social and business event for staff, suppliers and customers to enjoy a special meal together, whether they are Muslim or not.

They often hold these events at hotels, which turn iftar into an experience with distinctive dishes. The Renaissance in Kuala Lumpur serves whole roast sheep as well as other uncommon dishes on a seven-day rotation so that returning diners do not become bored.1
Meanwhile, the Café at Hotel Mulia Senayan in Jakarta, serves up cuisine from six different continents – including Italian pasta and Japanese sushi rolls – in addition to Middle Eastern favourites such as shawarmas (grilled meat and salad rolled in flat bread).2 Desserts are similarly cosmopolitan, with mousse, parfait and fondue next to traditional Indonesian dessert kolak, or fruit in palm sugar and coconut milk.
Hotel service goes beyond food, and as there is often only a short window of time between breaking fast and prayer, some hotels now have prayer rooms set aside as part of the buka puasa buffet package.

One thing is consistent, however: the meal traditionally starts with dates, eaten by the Prophet when he first broke fast.

1 http://www.malaysianflavours.com/2014/06/iftar-indulgence-temptations-renaissance-kl-hotel.html
2 http://www.thejakartapost.com/news/2011/08/14/ramadhan-buffet-a-taste-everything.html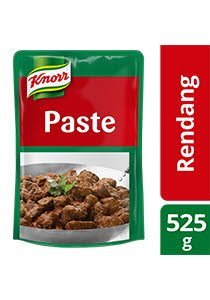 Specially formulated for food service operators, KNORR Rendang Paste is made with a blend of good quality curly red chilli, cumin, clove, coriander, cinnamon, cardamon, star anise, fenugreek into a paste format for easy application & versatility..
Find out more