Vegetarian meals are finally making waves in restaurants, which means greater selection of choice for vegetarians and vegetable-loving diners alike.
In response to the recent growing demand of vegetarian dishes, chefs across the island have created unique and imaginative dishes. Here's a look at why vegetarian dishes are gaining popularity, and some ideas on how to give your dishes a "green overhaul" to keep up with this trend!
How have mainstream restaurants adapted to this trend?
Let's take a look at a fine example from the other side of the world for some inspiration.
At AL's Place, a popular vegetable-focused food joint in San Francisco, meat items have been reduced to side dishes while veggie meals take centre stage. Owner chef Aaron London discovered the versatility of vegetables and showcases the different flavours and textures of vegetables through his unusual dishes.
So what can we expect from AL's place? Think cucumber noodles served with smoked eggplant, sesame-yuzu, melon and peppers, and campanelle (a type of pasta) served warm with tomato fondant, caper-pepper and goat's gouda (a type of cheese).
This vegetable-craze is not restricted to the US. Even in Asia and Europe, master chefs have begun to treat vegetarian meals more seriously and not just "health-conscious alternatives" anymore.
If you are looking to try a delicious vegetarian recipe, have a go at this Cauliflower Risotto with Parsley and Morel Mushrooms!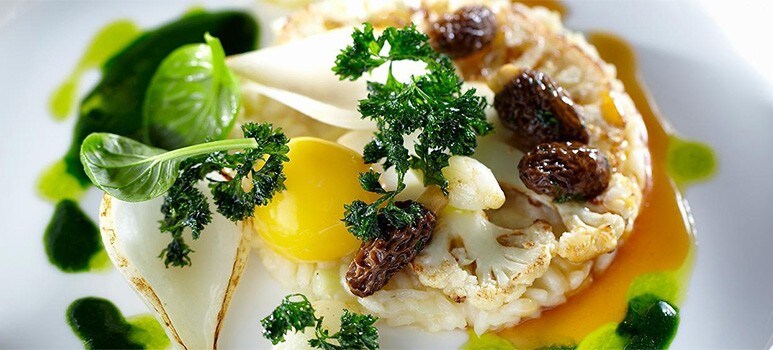 How diverse can vegetarian food be?
There's a common misunderstanding that vegetarian food lacks diversity. Yet, this could not be further from the truth.
As a chef, you definitely have the creativity and skills to prepare creative and tasty vegetable-based dishes that diners may feel too intimidated to cook at home – so get down to it! Some novel vegetarian dishes you can try are creamy lentil soups, guacamole sandwiches, black bean burritos, and almond ice-cream as a pleasant and healthy dessert to end the meal.
Vegetarian dishes have not been experimented as much as meat dishes, so there's definitely a lot of room for development in creating diverse and artistic vegetarian meals. So let your imagination take flight and see what new and innovative vegetable dishes you can cook up, maybe even challenge yourself to make them better than your usual meat ones!