Healthy bowls have long been known as a one-dish option for breakfast and dessert, but recently, they are also being served for lunch and dinner.
What explains its rising popularity? Part of its appeal is in its versatility – these bowls are quick, fuss-free, and have been adapted to include more greens and lean meats, perfect for those looking to stay healthy while eating on the go. Examples of such bowls include protein bowls, Buddha bowls and quinoa bowls.
The key to appealing to diners is to offer variety and flexibility with these bowls. When you let diners choose from a large selection of greens, grains and proteins to make their own healthy bowls, it is sure to pique their interest.
Some trendy grains you can consider offering are quinoa, brown rice and soba noodle. Add to this list different types of cheeses, nuts, lean cuts like chicken or turkey, tofu and tempeh, and you will have diners hooked.
Another surefire way to make the bowl more enticing is through its visual appeal. To do that, try including colourful vegetables like red cabbage, seaweed, shredded beets, carrot, rocket or kale. If you're looking to add some extra crunch to the bowl, throw in some nuts, seeds, sprouts, tomato, apple and cucumber.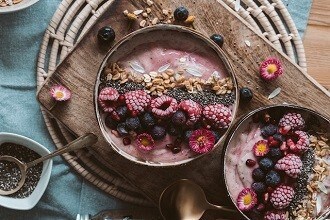 Breakfast Bowls
Breakfast bowls are becoming increasingly popular as a healthy alternative to smoothies. A perfect way to start the day, they're rich in antioxidants and high in energy levels. Try including fruit and grains in your bowls and top them off with a healthy serving of natural yoghurt for an extra energy boost.
Popular fruit choices to have in breakfast bowls are kiwi, blueberries, strawberries, mango and bananas. Try making your breakfast bowls more unique by adding chia seeds, coconut flakes and granola.
Porridge oats have also re-emerged as a fashionable breakfast option, as the base of a morning bowl. To prepare this, soak oats overnight with fruit, nuts and maple syrup.
Power Bowls
Lately, power bowls are taking restaurants and upscale chain stores around the world by storm. These little charmers typically comprise of brown rice, vegetables, legumes, lean meats, grains and other forms of protein like tofu.
Aesthetics is key when deciding how to present your food in these bowls. Such bowls can be very Instagram-friendly if done well, so careful thought must be put into the combination of colours and ingredients for the bowl to be photogenic.
How to "dress" your bowls up
A simple but very effective way to "dress" your bowls up is with condiments. One of the most popular dressings used is the Best Foods' Real Mayonnaise because of its creamy smooth texture and rich, flavourful taste.
You can even try combining dressings for a fusion of flavours if you're feeling adventurous! For a local twist, you can consider adding sambal chilli to Thousand Island dressing for a sweet and tangy flavour. Alternatively, experiment with something adventurous like peanut butter mixed with honey mustard dressing for a nutty taste.
Give these health bowls a go at your restaurants and let your creative juices flow to create these delicious and one-of-a-kind bowls!