Healthy, appetising, and quick-to-prepare bowls is a modern man's solution to maintaining a healthy diet in a fast-paced world. In a nutshell, a healthy bowl is a single-bowl meal filled with a variety of nutrient-rich, and colourful ingredients such as avocado, nuts, or quinoa. While healthy bowls have traditionally been served for breakfast or dessert, they have more recently been favoured as a lunch or dinner staple.
But what explains the rising popularity of healthy bowls? Part of the appeal is in its versatility. Healthy bowls are quick, fuss-free, and have been adapted to include more greens and lean meats — perfect for those looking to stay healthy while eating on the go. Examples of such bowls include acai bowls, protein bowls, salad bowls, and Buddha bowls.
When it comes to making your healthy bowl menu appealing to diners, the key is to offer variety and flexibility. By giving diners the freedom to choose from a wide selection of greens, grains, and proteins to make their own healthy bowls, your menu is sure to pique their interest.
There are many types of bowls in the family of healthy bowls. Here are some of the common ones you may consider adding to your menu.
1. Acai Bowl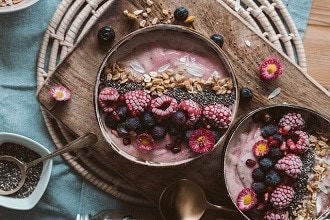 What is an Acai Bowl
Acai bowls are smoothie bowls made with blended frozen acai puree, and most often topped off with a variety of healthy ingredients like nuts, banana slices, and fresh fruits.
The acai fruit from Brazil had a surge in popularity in the early 2000s in the United States. Soon after, the acai bowl has made its way to Singapore and become a part of the local café scene1.
Benefits of Acai Bowls
Although acai bowls are blended with multiple ingredients, acai berries remain the star ingredient in every recipe. These berries may be small, but they pack a ton of health benefits such as:
Promotes brain health: The antioxidant anthocyanin found in acai berries may lower the risk of age-related brain diseases such as Alzheimer's disease and Parkinson's disease2.
Supports immune system: The antioxidants also protect the body from infection and free radicals3.
Boosts heart health: Natural fibres and fats in acai improve cholesterol levels2.
Ingredients for an Acai Bowl
Acai bowls are popularly topped with fruits like bananas, blueberries, strawberries, and raspberries. A great way to make your acai bowls more unique is by adding seeds or grains such as chia seeds, coconut flakes, and granola.
2. Protein Power Bowl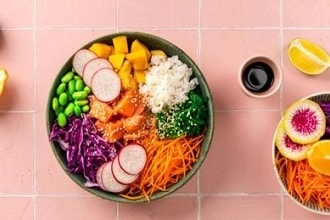 What is a Protein Power Bowl
A protein power bowl is, as its name suggests, a type of one-bowl meal that is power-packed with protein, grains, and vegetables. Known for being highly nutritious and customisable, it makes a healthy yet hearty meal option.
Benefits of a Protein Power Bowl
Protein power bowls have quickly taken restaurants around the world by storm as they are chock full of benefits, such as:
High nutritional value: As protein power bowls usually consist of high-fibre ingredients like vegetables and whole grains, they support a healthy immune system4 and allow you to get all the nutrition you need in a single bowl.
Fuels the body: Protein helps to repair and build your body's tissues and supply the body with energy5.
Weight management: Protein power bowls are often packed with complex carbs and lean meats such as salmon or chicken, leaving one feeling satisfied and full, reducing the chance of snacking in between 6.
Ingredients in a Protein Power Bowl
Protein power bowls typically comprise of wholesome ingredients such as leafy greens, brown rice, lean meat, and nuts. With a plethora of ingredients to choose from, it's no surprise that this dish is also enjoyed by vegetarians and vegans due to its versatility.  
Our plant-based meat products such as The Vegetarian Butcher's NoMeatballs make great alternatives to meat, as they are juicy and made with soy protein — the perfect addition to any menu.
3. Salad Bowls
As the world moves towards healthier eating habits, salad bowls have become increasingly popular and have even become the main dish in many restaurants7.
Benefits of eating salads
Salad bowls are an excellent way to incorporate more fibre into your diet, which can help improve your gut and overall health in many ways.
Improving immunity: Salads are full of healthy ingredients like leafy greens, avocadoes, and carrots, which make it nutritious and vitamin rich8.
Weight management: Like a protein power bowl, vegetables in salads, such as broccoli and tomatoes, are low in calories and allow you to feel full without the carb gain9.
Improving digestion: Salad greens are rich in fibre, which helps to improve digestion and prevent constipation10.
Salad bowls can be made with a variety of ingredients. They mostly consist of a standard base of greens such as lettuce or romaine leaves, garnished with fruits, nuts and croutons, and coated with dressing for extra flavour.
If you're looking to spruce up your salad dish, Hellmann's dressing is available in many different flavours to suit all types of salads. Add Hellmann's Charred Tomato and Capers Dressing for a roasted and tangy flavour.
4. Buddha Bowls
What is a Buddha Bowl
A Buddha bowl is the plant-based alternative to the protein power bowl, and it is a single-bowl meal containing grains, vegetables, and plant proteins.
Although a plant-based diet is often associated with veganism and vegetarianism, it is uniquely different as diners who prefer plant-based meals do it not to avoid meat, but to increase vegetable consumption for health reasons10. As beginners to a plant-based diet may find the prospect intimidating, restaurants and chefs must be comfortable in experimenting with different ingredients to put on their plant-based menu to ensure it is appealing and delicious.
Benefits of a Buddha bowl
As Buddha bowls are made of many healthy vegetables, grains, and plant-based protein, they are extremely beneficial in the following ways.
Improves gut health: Fibre-rich vegetables in Buddha bowls promote good bowel management and help your gut to better absorb nutrients from food11.
Boosts immune system: The vitamins, minerals, phytochemicals, and antioxidants in the vegetables also strengthen your immunity and keep your body healthy11.
Ingredients in a Buddha Bowl
A Buddha bowl typically contains whole grains such as quinoa or brown rice, vegetables like kale or carrots, and proteins such as chickpeas or tofu.
Dressings are a wonderful way to level up the flavour profile of your Buddha bowls. Chefs can experiment with our Best Foods Peanut Butter to create a creamy, delicious peanut sauce for your Buddha bowls. This works especially well with more oriental-flavoured Buddha Bowls.
Not all healthy bowls are created equal. That's why it is important for chefs to experiment with new ingredients to keep up with the latest health trends. Elevate your menu by incorporating our recipes into your menu today.