Singapore's newest favourite ingredient
One of Chinese cooking's most famous traditional ingredients is making a spectacular comeback. Over the years, salted egg yolk has been used in iconic dishes such as salted egg crab, salted egg pork ribs and salted egg buns.




In recent years, salted egg's repertoire has expanded to take its place in even more eateries, restaurants and bakeries. Even McDonald's jumped on the trend with their salted egg burger in 2016.
Other modern twists using salted egg as a star ingredient include chocolate waffles with salted egg sauce, salted egg cake, liu sha (i.e. salted egg) prata, fries with salted egg yolk, salted egg tofu and even salted egg cake.
Chefs all over Singapore are already showcasing the incredible versatility of this amazing ingredient. Now, it's your turn. We'll even share 3 of our favourite salted egg recipes to help you get started.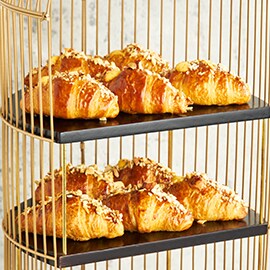 Nibbles/Takeout: Salted Egg Lava Croissant
Putting a European twist on the classic salted egg bun that Singaporeans love, this recipe blends the smooth, creamy texture of flowing salted egg lava paste with the crispy feel of a freshly baked croissant – it's a perfect collision of flavours that will have your diners coming back for more.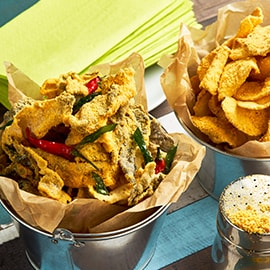 Starter: Assorted "Chips" with Salted Egg Sprinkles
Whet your diners' appetites with this crispy appetiser made from fried potato slices and fish skin – made a whole lot better with salted egg sprinkles that you can serve in a pepper shaker, so your diners can choose the perfect amount of salted egg flavour they want to start their day with.

Main Course: Salted Egg Lobster Thermidor
Who can resist this seafood special that features a generous helping of lobster, infused with the rich, creamy texture and taste salted egg? Answer: No one. Include this in your seafood menu to delight your diners!


Calling all chefs and f&b owners join #saltedeggshiok
Already have a signature salted egg dish? Have it featured on our map, then get ready as fans from all over Singapore visit your restaurant for a taste of your delicious salted egg dish.
Simply complete this registration form now!
Why u don't like #maituliao?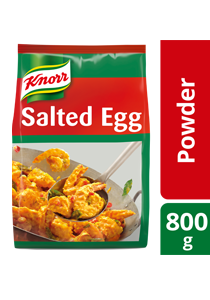 KNORR Golden Salted Egg Powder is a one-step dish base for salted egg dishes. We use real quality egg yolks and the latest drying technology to preserve their flavour, colour and aroma. Now, you can create scratch-quality salted egg dishes in just 1-step!
Find out more