BEST FOODS Thousand Island (Sachet) 14g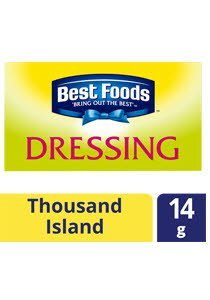 The flavourful BEST FOODS Thousand Island Dressing is tangy and combines the best ingredients of real tomato paste and chunky gherkin relish that are ideal as a dressing for your salad greens and as a dipping sauce.
From the makers of the World's Number 1 Mayonnaise Brand*
Packaging
Excluding 7% GST
All product information
Nutrition and allergens
Halal - Philippines
Ingredients and Allergen Information
Soybean Oil, Sugar, Vinegar, Gherkin Relish, Egg, Chilli Sauce, Tomato Paste, Modified Starch, Mustard, Salt, Spices, Edible Gum, Preservative (E202), Calcium Disodium EDTA.

May contain traces of cereals containing gluten, soy, fish, milk, and peanut.
Key product information
Description
The flavourful BEST FOODS Thousand Island Dressing is tangy and combines the best ingredients of real tomato paste and chunky gherkin relish that are ideal as a dressing for your salad greens and as a dipping sauce.
From the makers of the World's Number 1 Mayonnaise Brand*
Packaging
Per carton (200 x 14 g)
Container
Per piece (In sachets)
Usage information
Benefits
Halal
Made with real tomato and chunky gherkin relish, just like the traditional recipe.
One step dressing recipe that saves time and labour.
Made by a brand established since 1905 and is today's No.1 Mayonnaise Brand in the USA.
Storage
Keep in a cool & dry place. After opening, keep refrigerated at 4–10°C. Do not freeze.