KNORR Concentrated Chicken Bouillon 1kg
10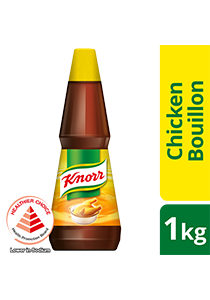 Made from slow simmering of real chicken meat and fats into a highly concentrated bouillon format
Endorsed by the Health Promotion Board as a healthier choice with lower sodium*
Versatile across applications & cuisines
Delivers lasting taste, aroma and colour with acceptable level of micro count and sedimentation even after 5 days
Packaging
Excluding 7% GST
All product information
Nutrition and allergens
Endorsed by Health Promotion Board as a healthier choice with lower sodium

Halal - Thailand
Ingredients and Allergen Information
Salt, Flavour Enhancer (E621, E635), Sugar, Chicken Extract, Modified Starch (E1422), Chicken Fat, Yeast Extract, Permitted Flavouring (Contain Egg), Edible Gum and Permitted Colouring.

May contain traces of cereals containing gluten, fish, crustacean, soy, milk, mollusc, peanut and tree nuts.
Additional Information
Endorsed by Health Promotion Board as a healthier choice with lower sodium
Halal - Thailand
Key product information
Description
Made for Chefs by Chefs, KNORR now borrows from the best of Knorr's heritage in China with KNORR Concentrated Chicken Bouillon. KNORR Bouillon gives natural chicken flavour and aroma and boosts strong meaty flavour to your dishes. A perfect meaty bouillon for making stocks & soups.
Packaging
Per carton (6 x 1 kg)
Container
Per piece (Bottle)
Usage information
Preparation
For Soup/Stock: Add 30 g of KNORR Concentrated Chicken Bouillon to one litre of boiling water.
Storage
Close pack tightly and store in a cool and dry place.